Keeping up with the latest fairy tale craze, Castle went all Grimm this week with "Once Upon a Crime". An hour filled with murder and drama, what was not too love?
Happily Ever After... Or Not. The case focused on the murders of two girls dressed in classic costumes, with a third found before death. Turns out the third victim had killed the other girls to keep a secret of a hit and run several years earlier.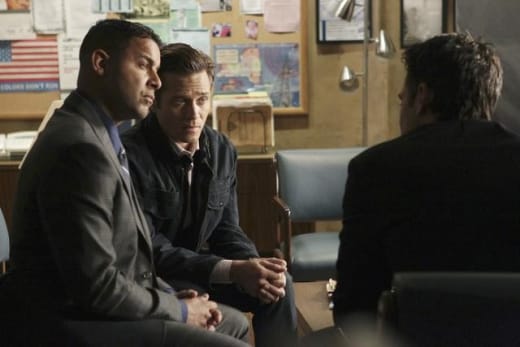 A little I Know What You Did Last Summer for sure. But it didn't matter. I'm a sucker for revenge cases or those carrying a secret and I know I am not alone in that.
The investigation brought out a guest star who should be seen on the small screen every week. Mason Lockwood Taylor Kinney showed up briefly, but but his appearance fell flat. This is an actor who has way more potential than a few lines here and there, something NBC has clearly noticed with his casting on Chicago Fire. Anyways...
One Woman Wonder. Martha decided to put on a one woman show in the apartment she shares with Rick and Alexis. There wasn't really any point to this arc except for Castle to discover the tying of the bow. It felt a little cheap, but I guess it served its purpose. 
Alexis as stage manager meant no shadowing Lanie. Hopefully this story is not over. Pairing the two together gives Alexis a chance to be with another adult besides her grandmother and it gives her a solid reason to appear on our screen. Time to get her back to the bodies!
Secrets are like bombs. Castle dropped this knowledge on us and prompted Beckett to acknowledge that secrets always find their way out. This little bit of foreshadowing means that Castle has to find out Beckett knows he said I love you. I'm thinking May Sweeps and I'm thinking it's going to be awesome. Any theories on how and if it comes out?
After Thoughts
How creepy was the apartment filled with dolls? I was right with Ryan in not looking directly at them. I'm pretty sure Chucky damaged a lot of us. 
Ryan looked a little different in this episode. New haircut? I couldn't put my finger on it.
No Gates once again. Anyone miss her? 
Hand-holding anyone? It was super quick, but Beckett grabbed for Rick's paw!
Overall, a solid and entertaining hour of Castle. The fairy tale theme seemed right up Nathan Fillion's alley and it was great. Twists, turns, and excitement; just the way we like this series. Next week is a repeat isode so we will have to suffer a little longer until the next new installment. Until then, hit the comments section and sound off on what you thought of "Once Upon A Crime."
Don't forget to check back later in the week for the Castle Round Table!