Sometimes you have to take the good with the bad. In The Office's first episode of 2012, the titular storyline of the gang playing "Trivia" in Philadelphia worked really well, but the forced trio in Florida definitely did not.
That's not to say that there was nothing to laugh at, as Dwight stormed Sabre headquarters to get a managerial position with Dunder Mifflin's parent company. Mr. Schrute's jumping fist pump as he walked the hall to Robert's office was among the best moments.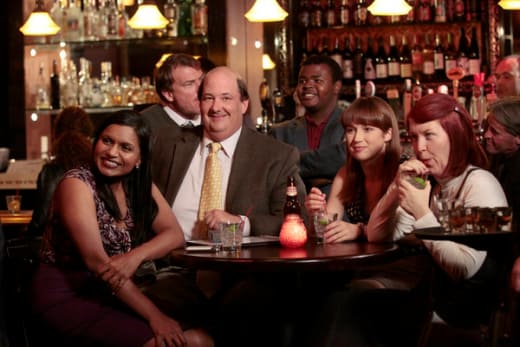 Gabe comparing himself to a toilet was also one of the more clever lines of the night, but the entire situation just felt forced. We've seen Dwight act like this before... and then he always just returns to being a great salesman.
I'm not one to complain about lack of growth in a sitcom character, but if the repetitive nature of said character's actions reduces the hilarity of our beloved Dwight Schrute, it's not a good thing. Combine that tiresome activity with an individual who has yet to find his footing in Robert California, and we were left with a "B" story that didn't quite work.
Up north, conversely, the others heading to Philly in order to win a grand at Oscar's trivia night was quite fun. Although a bit predictable, it was also extremely poetic that everyone but Kevin knew their rightful place on Team A, B or C, and the big lug was the one that ended up helping the latter win the entire competition.
Who knew that weighing in at 300 pounds would be the deciding factor in the trivia championship?
Splitting the group into teams made for some great dynamics between characters we don't always get to see interact with each other. Personally, I loved the hodgepodge of Stanley, Phyllis Creed and Pam's Replacement on Team 2.
My favorite answer of the night was definitely the C squad going with SEE-attle for the Ray Charles question. Get it? Because he's blind.
Before the majority made their way to trivia, and Dwight headed south to Florida, there was the cold open. It was a quick scene that went without a laugh for a very long time - especially Andy Bernard's horrendously unfunny raccoon miming - but when Kevin took that first bite into his chocolate bar, and let out a big "oh yeah" I absolutely lost it. Way to go, Kev. You do your thing.
I was pretty split right down the middle on "Trivia." Was this a nice start to 2012 for you? Or were you disappointed? Which was your favorite team at trivia? Maybe the Queerenstein Bears?
Don't forget to check out all the best lines at our The Office Quotes page.
Dan Forcella is a TV Fanatic Staff Writer. Follow him on Twitter.