A murder. A kidnapping. A couple of returns and a look ahead to season two.
Revenge may not air a new episode until February 8, but rest assured, TV Fanatics, the juicy ABC drama will deliver more twists and turns than ever before when it picks up again.
The latest issue of Entertainment Weekly features Emily VanCamp and Josh Bowman on the cover, but it's the scoop from creator Mike Kelley inside that ought to have viewers truly buzzing. Pick up a copy at your local newsstand and read on for intriguing excerpts from the producer...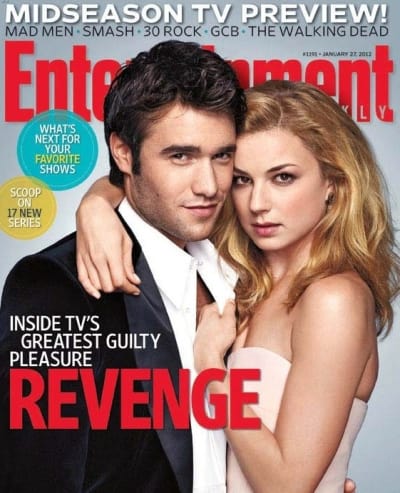 Who will return? Kelley says both Tyler and Amanda will be back and both will "start f-cking with Emily... they've got new, different agendas." We may also see Lydia again before the season concludes.
New characters will play key roles - James Purefoy has already been cast as a love interest for Victoria, while Courtney B. Vance will play her new attorney - but one we've recently been introduced to will "do something so diabolical you can't believe it" and it will incite Emily's wrath.
We'll catch back up to the pilot's engagement party on the February 15 episode, aptly titled "Chaos." Is Daniel actually the corpse on the beach? No comment, but Kelley promises "someone will be arrested and someone will be dead" by the end of the hour.
Someone will also get kidnapped and someone close to Emily will betray her.
"We'll learn how Emily Thorne became Emily Thorne," Kelley previews, adding that this look back will include more on Japanese mentor Takeda.
And how will season one end? Despite no official word from ABC yet, writers are hard at work on season two. It will pick up in the summer and the May finale will likely include a flash forward that previews the show's next major mystery. Kelley concludes with one final tease, looking way ahead:
"There will be a wedding - at least one - and there will be more murder. Maybe in the same day!"
Matt Richenthal is the Editor in Chief of TV Fanatic. Follow him on Twitter and on Google+.