The season premiere of Project Runway All Stars hit the catwalk without its biggest stars and with one glaring missed opportunity.
How can there be a show be titled Project Runway All Stars when the real stars are missing? No Heidi Klum? No Tim Gunn?!? Ugh. I'm heartbroken before we've even begun.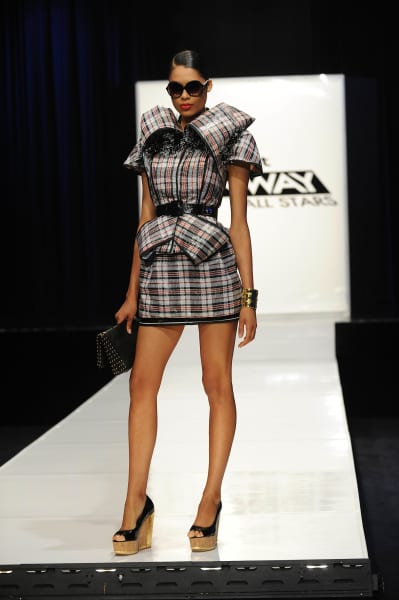 No Tim really hurts. Tim manages to mentor our designers with direct but polite criticism. You always feel as though he really cares. Maybe it's all the hugging. 
His replacement is Joanna Coles, the editor and chief of Marie Claire magazine. I want to give Joanna a chance but when she says she's so excited to be here she looks anything but. Perhaps she'll need some time to work up to hugging.
Our regular Project Runway host and judges are replaced by Angela Lindvall (model), Georgina Chapman (co-founder of Marchesa), and Issac Mizrahi (Fashion Designer). This week's guest judge is Ken Downing, Sr. VP and Fashion Director at Neiman Marcus. 
But on to our designers, most of whom I'm happy to see return. The fake reenactments where they all meet one another on the streets are just painful to watch, particularly Jerell and Kenley. But then I remind myself that these are designers, not actors, so I'll move on.
The show is going all out by giving away the biggest prize in runway history. The winner will receive their own exclusive boutique in select Neiman Marcus stores, a fashion spread in Marie Claire, a job as guest editor for one year, a slew of industrial sewing equipment from Brother and tech and office space from HP and intel plus $100,000 cash. That's a pretty big deal.
With 13 designers fighting to redeem themselves from previous losses, we have some lacking confidence, such as Michael Costello and others such as Austin Scarlett, who demands satisfaction for being robbed in season one. I half expect him to call a duel with someone.
When the designers must show a recent creation that represents who they are as a designer, we learn very little about what the judges are thinking. At this point everything is all rah rah, and welcome back.
Then we hit the challenge. Everyone must create a new look inspired by their design, but they can only use items purchased from a 99 cent store. Bring on the mop heads, trash bags, and paper napkins.
Michael and April both grab the mop heads and make almost the same dress. They're both nice but if one mop dress is boring, two almost have me falling asleep.
Austin nearly ruins his plastic outfit with a hot glue gun. Michael thinks it will ruin him but never count out our resident blonde peacock. He's a crafty one and manages a patch job no one can see from the runway.
Speaking of the runway…

Our Top 3:
Rami's got a cocktail dress made of plaid laundry bags, tinsel and umbrella lining. Issac's doing his best Michael Kors impersonation when he tells Rami he's mastered all of the elements and made them his bitch. Georgina thinks she looks like she's stepped off a Paris runway. In short, the judges love it.
Mondo's little black dress is made of trash bags, binders, and duct tape. Georgina thinks it's fun. Ken says it's flawlessly executed and he'd like to see the design made in real fabric... something that doesn't need to be hosed down.
Jerrel makes a flowing print dress from cheap handkerchiefs. Issac's impressed with the color and Ken likes the hemline. You'd never know this wasn't an expensive dress.
On the bottom:
Sweet P has made a hideous dress from bright colored towels and belts. Issac calls her on the ragged, unfinished look. Ken says it makes the model look bigger than she is, something no woman wants. Host Angela says she wouldn't be seen dead in it.
Elisa's outfit was designed from "sacred geometry" with messaged written on the cape. Issac likes the spirit but Ken and Georgina aren't sold.
Gordana's dress of streamers and pot scrubbers has a little too much going on but Issac says the steel wook looks divine on the runway. Good thing Mondo's not judging. He thought it resembled a pinata.
The winner: Rami, and I have to admit I never thought I'd like those plastic laundry bags but he did a heck of a job. Mondo looks a little heartbroken at being proclaimed second best.
The shocker of the night goes to the loser category. Honestly, it should have been Sweet P. Nice woman but her dress was sad, boring, and uninspired. I can't imagine who would want to wear that. 
Instead they sent Elisa home. Are they kidding? Where were the producers? Elisa is reality TV gold! She bases her designs on "sacred geometry." She gives her clients spit blessings. She writes cryptic messages into her clothes.
As Anthony says, she may be headed to the crazy house like his grandma but Elisa could have given us endless hours of entertainment among our oh so serious designers. How can they kick her off after only one episode?  I feel downright cheated.
Honestly, with no Heidi, no Tim, and now our kookiest contestant is gone, I'm a little depressed.  But somehow I'll soldier on and tune in next week.  Maybe Tim Gunn will make a guest appearance and I can get a hug. You never know.
C. Orlando is a TV Fanatic Staff Writer. Follow her on Twitter.