Pretty Little Liars Review: Turning the Tables on A
by Teresa Lopez at .
Our Pretty Little Liars are back in a big way! After many, many (many!) episodes of being the unwilling pawns in A's game, the girls finally got a clue on the winter premiere and started playing their own games in "Through Many Dangers, Toils and Snares." It was a satisfying episode after the disappointing mid-season finale because it gave me hope that we will soon learn who A really is.
My first reaction when watching the show, however, was mild annoyance. I wondered why the girls were being so vile to Emily. I re-watched the last episode and tried to figure out if I missed something. Emily has been A's favorite victim for awhile now, causing her to end up in hospital, lose her place on the swim team and nearly die. It seemed rather messed up that Spencer, Hanna and Aria would suddenly turn on her, especially when she's totally right.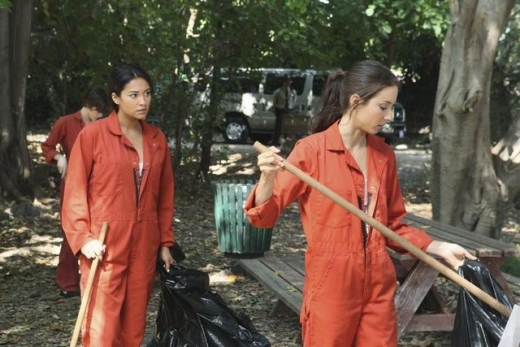 It's never made much sense to me that all the girls blindly follow Spencer, and so far their refusal to talk to anyone about A has only made the situation worse. That made it kind of satisfying when Emily turned on her and the two engaged in an awesome garbage war.

Once their great plan was revealed, I thought it was a step in the right direction for the show, but then the follow-through was completely mishandled. They laid the big trap for A with a very public (and somewhat overly dramatic) argument at school, with all the most probable suspects nearby. BUT then Spencer, Hanna and Aria had personal issues to deal with, making them late to the meeting and putting Emily in a lot of danger.

I have to say that I'm really impressed with Emily's character development. She's gone from a meek, closeted girl to a confident and strong young woman. She went ahead and met with A all by herself, even though Emily knows how dangerous A can be. The girls missed their opportunity to catch A, but they did get A's cell phone. I can't wait to see what juicy secrets they'll uncover with that little piece of evidence!

At this point, we should really reconsider all of the possible suspects. Spencer seems convinced that Jenna and Garrett were, at the very least, involved in Allison's death. She spent some time baiting Garrett about their "new evidence" to see how he would respond, and he did seem very suspicious. Could Garrett be A? With Jenna as his accomplice?

But, what about Jason? He's suddenly disappeared, and I'm sure we'll hear more about it him soon enough. The figure in the woods definitely looked male, but it could just as easily have been a woman.

Any other suspects come to mind?

On another note, I thought it was just bad timing for Aria and Ezra to go public with their relationship. Aria knew she had a very important meeting to get to that night, so she shouldn't have started what will be a very long conversation with her parents. Plus, I'm wasn't at all surprised by her parents' reaction (or maybe surprised that it wasn't that severe).

Does anyone really think it's alright for teachers to date their high school students? Regardless of the circumstances, Ezra was the adult and should've known better. It wouldn't have killed him to wait until he was at least working at another school. But I guess it wouldn't have been as romantic. In any case, it does give us plenty of drama to look forward to this season.

What are you most excited for this season? Watch promo now for "A Hot Piece of A" and then sound off and welcome back PLL, TV Fanatics!


Tags: Pretty Little Liars, Reviews
From Around the Web