One of the things that makes Parenthood so amazing is that you don't have to be a parent to enjoy it. You merely need to have some experience with a family environment. "Road Trip" made that perfectly clear, as there was something for everyone to identify with, no matter your familial role.
It never even dawned on me that Zeek might still have a living parent, but his unsupportive and condescending mother seems to be chugging along. So great was their rift that she was a virtual unknown to the grandkids and Joel.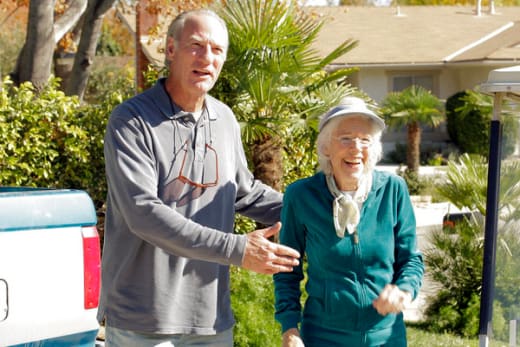 It was really hard to watch Zeek struggle with his anxiety in anticipation of seeing his mother. I can remember seeing my dad cry when his own dad died, and it was like seeing this rock crumble. Feelings I didn't think he could have came out of nowhere. That's what I was seeing in Zeek. He was completely out of his element. 
His mom was turning 86, and had recently had a fall. Obviously it was weighing on his mind that she might not be around much longer, and his desperate need for her approval drove him to put together a last-minute family road trip to see her. He packed up a $900 chair as a birthday gift, roused the troops, handed out walkie talkies (one per car, mission control communication only) and off they went.
Can you imagine introducing a more wonderful family to your mother? As his inner turmoil increased, he finally laid the blame of it at the feet of his family and ended up ditching them. Despite their initial desire to turn around, they all showed up to celebrate Grandma Blanche's birthday. But, in the end, it wasn't enough. Zeek finally had to come to the realization that he might never have from his mother what he needed: the knowledge of her love.
Zeek wanted to show her the very best thing he had done in his life, the warm and wonderful Braverman clan. She couldn't quite comprehend the enormity of his accomplishment. But she did tell him, finally, that she loved him. Something he said to his own children as often as he could so they would never be left with the question he had of his own mother's love. I cried.
Two other items of note:
Max called Kristina a bitch. Not just once, and with a ferocity I found alarming. Her punishment was to banish him from the road trip. You can imagine how much this upset Zeek's applecart, but Adam had to support her in following through on discipline, lest Max learn that it is always a false threat. Max did a lot to make up for the mistake and Kristina flew them to Blanche's. One of the best scenes of the episode was between Zeek and Kristina once she arrived, as she shared with him how blessed she was to be a part of the family.
Just a quickie, seriously. Drew walked in on Mark and Sarah having sex and it was so uncomfortable and icky and yet they dealt with it in a really understandable way. I just hope it doesn't happen every week!
Frankly, I know the depth of this episode escapes my review, but I am unable, in timely fashion, to gather my thoughts and eloquently state how much it meant to me. There was something so elemental in Zeek's yearning for his mother's approval. To ensure she saw and understood the breadth of his achievement. It was subtle and incredibly moving. Just another week with the Bravermans.
Carissa Pavlica is the managing editor and a staff writer for TV Fanatic. She's a member of the Broadcast Television Journalists Association (BTJA), enjoys mentoring writers, wine, and passionately discussing the nuances of television. Follow her on Twitter and email her here at TV Fanatic.