Modern Family Review: Dropping the F-Bomb
by Leigh Raines at .
Despite the Hollywood Foreign Press Association's opinion, this season of Modern Family hasn't exactly been award-winning in my eyes. That is, until "Little Bo Bleep" had me doubled over in stitches.
Holy bleep Modern Family is back! There was a lot of controversy buzzing throughout the interwebs about the fact that there would be a cursing toddler on tonight's episode. But, come on, who out there had a problem with Lily's antics?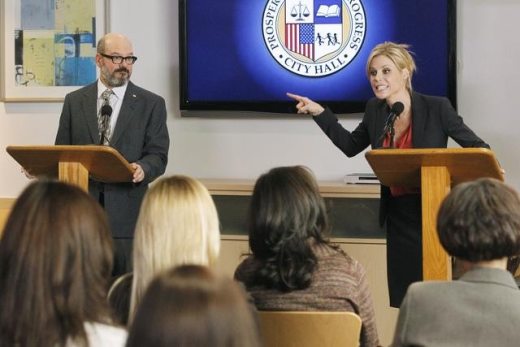 For those of you who have young kids, siblings, nieces or nephews, there is this one basic fact we all know: KIDS REPEAT THINGS. With five nieces/nephews under the age of thee in my family right now, I've learned the hard way just how much I need to censor my potty mouth! 

Modern Family has always prided itself on being realistic and representing true-to-life situations. So why should it gloss over something as basic and common as the fact that little kids sometimes mimic bad words they hear their parents sa?. And just like Cam did, sometimes people laugh! If people are being that uptight one little curse word, sorry, but you're watching the wrong show. Heck, you shouldn't even be watching TV.

Back to the episode: what was up with the light-up wedding dresses? Hideous yet hilarious! Still, that wasn't even the best part of the episode. The debate was pure gold. Readers, PLEASE find me the YouTube remix of Phil's perverted confession. It has to be floating around Tumblr already, autotuned and everything. 

The family coaching session was also pretty amazing, because there's just no way Claire would ever be able to control all of her little ticks. In the end, it was just better for Claire to be herself. It turns out she wasn't the one the kids had to worry about.

Clive Bixby always finds a way back into our lives. Although I think it's safe to say that Phil and Claire will be finding a safer environment for their Valentine's Day exploits this year. 

The storyline with Stella was only okay, but it gets boosted by the fact that I'm just obsessed with that little angel! Plus, everyone knows people who prefer their pets over their family members. (Cough... cough... Mom, I'm looking at you. 

Great post-GoldenGlobes episode for the Modern Family crew. For me it was chock full of amazing quotes, not including Lily's little slip up. Do you guys think this was Modern Family's comeback episode? What did you think of Lily's slip-ups? They were...

Leigh Raines is a TV Fanatic Staff Writer. Follow her on Twitter.

Tags: Modern Family, Reviews
From Around the Web