"Pu' olo:" The Package
I would venture to say that the most talked about mystery this season on Hawaii Five-0 has been who - or what - is Shelburne, which Wo Fat has been chasing and/or afraid of. Sadly, this buzzed-about question turned into the the most disappointing reveal ever this week.
For months we've been agonizing, hypothesizing, analyzing, and theorizing about Shelburne, and our reward is this?!? Oh, yeah, it's a code name and I used it when I killed Wo Fat's father. Why the heck did we need to be tortured with that for this long?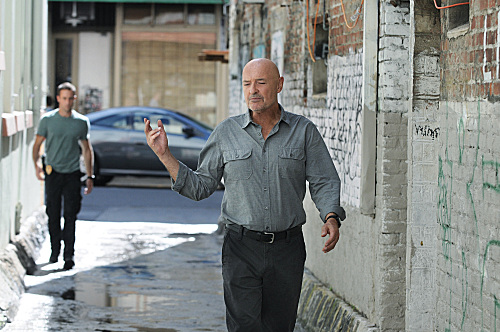 Okay, that letdown aside, this week's episode offered several good things that helps soften the bitter taste Shelburne is going to leave. First, Rachel and Grace were back. I'm not sure if Claire van der Boom is really pregnant, or was recently so, as she kind of had that "new mom" glow about her. I was crossing my fingers that she would tell Danny the baby was really his. Alas, it was not to be. 
Second, all you anti-Lori readers got your wish because she stayed in the truck while the rest of the team went into the warehouse. That's not to say us pro-Lori people weren't happy, as she and Kono going to get Sang was great. I'm still a big support of Kono and Lori's girl power.
While we're talking about Lori, it looks like the series has finally found a look for Lauren German. Her hair is longer and darker, and she is dressing with influences from Kono, Steve and a touch of Danny. I know I'm in the minority, but I'm really hoping we see German added to the opening credits so she is confirmed a long term Five-0 member.
Is anyone disappointed that Joe is going into hiding? I know I'm not. After the months of cat and mouse over Shelburne and the disappointing reveal, I'm ready for him to not be the focus - at least for a while. Then again, Joe called someone a few episodes back about Shelburne. I suspect it was Hiro Noshimuri, but it could be a loop hole for a better answer to this ongoing question.
Speaking of the Noshimuri family, now that Adam no longer thinks Joe killed his father and Steve asked him to help with Wo Fat, many Ian Anthony Dale fans may get their wish to see Adam more often. While comments on the last episode exploded with discussion over who was better looking, Alex O'Loughlin or Dale. I'm going to freely admit to having a budding man crush on both of them and let you all take it from there.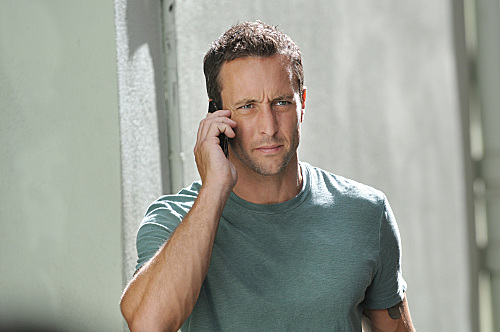 Did anyone else catch the attempt to patch the plot hole with the flashback to 1992? If you're not familiar with the plot hole in question, there has been a discrepancy pointed out between comments made on the first season when Steve was the high school quarterback and the first episode this season when Joe and Steve discussed why Steve's father sent him away when he was a teenager.

The flashback attempted to patch said hole by showing Steve as a junior in high school getting sent off to the military academy. However, as Steve was the "star quarterback," it was still a bit thin given that most quarterbacks are juniors or seniors, not sophomores. Maybe it's different on the islands. 

Overall, it was a good episode for tying up a lot of small bits of information and landing flat on one big one. Let's see where the show goes from here.

Jim G. is a TV Fanatic Staff Writer. Follow him on Twitter.

Tags: Hawaii Five-0, Reviews