For the record, Zoe Hart is a far braver human being than I am. Not only did she not scream like a 12-year old girl at the sight of a mouse, she actively pursued its capture.
Must be a New York City thing.
But Zoe's rodent hunt was only the beginning of her aggressive behavior on "Hell's Belles," as our favorite southern doctor made it her mission to dig into her past, quickly learning that she has far more in common with Lemon Breeland than any of us could have imagined. The discovery led to moments both funny and revelatory.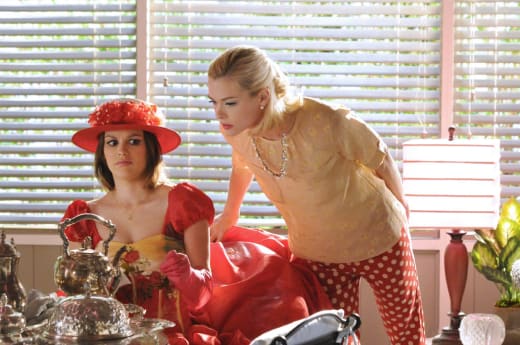 Before I applaud the show for climbing Zoe's family tree, let's all hope Rachel Bilson isn't asked to sing again. No offense, girl. You're just a much better rapper.
Now back to the episode: it's almost difficult to remember that Zoe ended up in Bluebell because she couldn't land a residency in New York without improving her bedside manner. This was only meant to be a one-year sabbatical before returning to her preferred life up north... but Zoe immediately started talking about living up to the expectations of her birth father, as opposed to working to achieve her goal of a career in The Big Apple, and I just didn't buy it.
So I'm glad the show sort of hit the reset button here. It makes perfect sense that Zoe would feel lost in Alabama, uprooted from everything she knows and everything she had believed about herself. Brick actually delivered a nice speech to motivate his pupil/co-worker/enemy at the outset and it was a welcome step for Zoe to take some time to dig into her past.
Now I feel invested in her journey. Now every reference to Harley won't feel forced and Zoe will feel like a more well-rounded character, someone who is legitimately lost and confused and who is as equally focused on who she wants to be as what she wants to be.
Not to mention, the episode was damn funny throughout: From the mere sight of Zoe in that dress; to her comparison of Fort Lauderdale to heaven; to the joke about the town eunuch between Wade and Lavon; to Zoe asking if the town is permitted to discuss "feminine products" out loud. Great, humorous moments all around.
But positively no moments of romance on the episode, which may have bothered some. Not me, however.
Granted, the winter finale may have concluded with an acknowledgment by Zoe that Wade could be the man for her, but it's clear the show wants to take its time building these two up. I'm fine with that. It would grow old, not to mention irritating, very quickly if these two exchanged glances and/or came oh-so-close to kissing every week. I'd much rather have them take some time apart (did they even talk this episode? No, right?) and for the series to work on their character development before throwing them straight into... Zade? Woe?
As they say in real life, you can't truly love someone until you love yourself. It's similar on television. You can't truly love a couple until you know each individual well on his/her own and that's exactly what we were treated to here.
Wade can't JUST be a hot guy who rarely wears a shirt and often cracks wise. It was refreshing to take a deeper look into his family. Wade's relationship with his father clearly plays a role in how he develops relationships with others, explaining why he's more apt to make a sarcastic crack than really open up. The guy didn't exactly grow up in a loving household - but maybe it's not too late to change that.
Finally, we come to Lemon, who was also forced to explore her background this week and how it's shaped her treatment of those around her. I'd say this was the best job yet the show has done at softening the character and making her somewhat believable, but it may be too late for me. All the Bluebell women just come across as one-note stereotypes.
I roll my eyes when they blabber on about some local tradition, or act like airheads who believe in a pregnancy curse, or, in Lemon's case, are simply really mean. Perhaps Lemon and Zoe are now veering closer to frenemy than enemy territory now, which will give the former a chance to evolve, but she's still my least favorite character.
Overall, though, a very welcome return to Bluebell. If Zoe feels like a mystery novel with the final chapter torn out, this episode went a long way toward writing one that is both funny and moving.
Matt Richenthal is the Editor in Chief of TV Fanatic. Follow him on Twitter and on Google+.