Gossip Girl Producer Teases Upcoming Episodes
Steve Marsi at .
Gossip Girl is finally nearing its return and executive producer Joshua Safran has a lot to say about the upcoming phase of Season 5, beginning tomorrow night at 8 p.m. EST on the CW.
The last we saw of Blair and Chuck, they reunited in the fall finale, but as we know from the promo pics, Blair is getting married to Louis in the 100th episode (January 30). So what gives?
What does the future hold for Chair, how does Dan fit into the mix, and does Louis stand a chance? Excerpts from Safran's interview with TV Line (follow the link for their full interview) below ...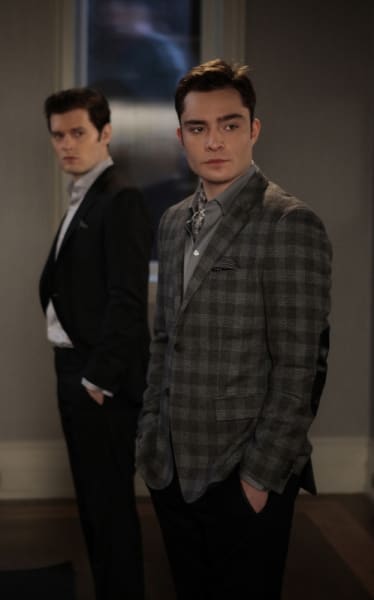 On the royal wedding: "I wouldn't say necessarily that Blair is getting married to Louis in the 100th episode, but there definitely is an event scheduled. What happens at that event is TBD."
On the time jump between the midseason finale and right now: "You're going to find out [Monday] what has happened. There's a significant time jump between Episodes 10 and 11. "
"A lot of the episode is told in flashback. You'll definitely learn why they've gone from professing their future plans to each other in the back of the limo to Blair walking down the aisle with Louis."
"[Monday's] episode very much takes place from Chuck and Blair's point of view ... The decision to continue to grow and not regress becomes more of a struggle for Chuck in upcoming episodes."
On the show's dark tone: "It will definitely lighten up again, but it was a conscious choice to take it darker. As we move back towards spring again, the show will get lighter as well."
On S and B's friendship: "The 100th episode is very much about their friendship. There's a really cute scene with the two of them on the morning of the wedding, which is really going to make fans happy."
On whether Serena is over Dan: "I definitely do think Episode 10 started Serena on a path to look at her past, especially as it concerns her relationships and what they've actually meant to her."
On whether Blair will find out how in love with her Dan is: "The question of whether or not she's in denial and knows it or whether she truly doesn't see it will be answered in upcoming episodes."
On the Ivy story and the identity of the real Charlie: "As for the real Charlie, as of now, we do know that she is out there. Whether or not we're going to meet her in the future, I can't say."
Steve Marsi is the Managing Editor of TV Fanatic. Follow him on Google+ or email him here.