Monday's Gossip Girl, "Father and the Bride" was definitely a far cry from the Steve Martin classic. A tan, scheming priest and the bride, a still-bluffing Blair Waldorf, definitely don't make for a delightful rom-com.
As for said devil, there seemed to be more than one involved - snake-esque Father Cavalia, Gossip Girl herself, William Vanderbilt ... and whomever is making Blair continue to wear these awful hats.
This week's fascinator was a cross between the Smurfs and Little Miss Muffet. While we wait in agony to see if our bad boy billionaire stops the wedding, let's talk fashion and that throwback sweater of Serena's ... eek.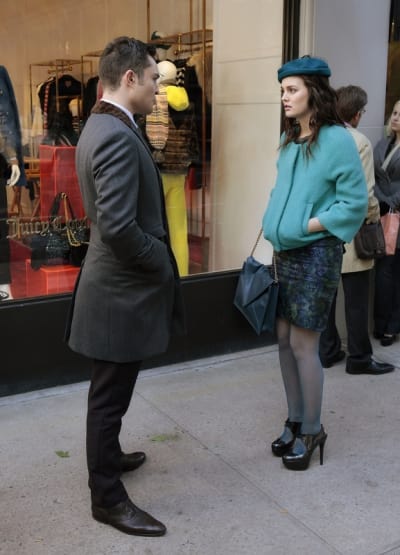 There is much to say, so let's just keep this short and sweet. While we get the reference of "the blues," Blair Waldorf would never be caught dead in something so unflattering, happy or not - and what are those shoes?
No wonder Chuck knows something is up, he knows her closet better than she does.
Actual Jacket: Diane von Furstenberg Milford Alpaca Coat
Steal Jacket: Rag & Bone Grosvenor Jacket
Actual Shoes: Stuart Weitzman Time Platform Pumps
Steal Shoes: Chinese Laundry Keep it Real Pumps
Steal Dress: Charlotte Ronson Anastasia Floral Dress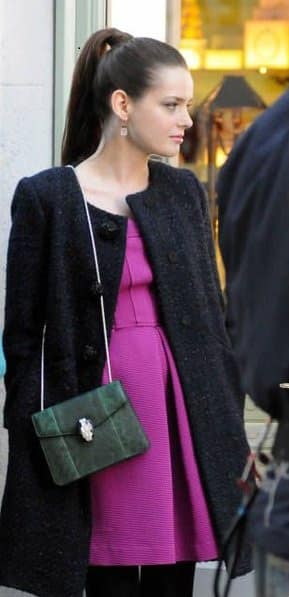 The dress and the pink hue scream innocent, which is exactly what Beatrice is trying to play here. A feminine shade to match her sleek ponytail is very smart. The chain purse is a bold addition as well.
Actual Dress: Nanette Lepore Local Vine Dress
Steal Dress: Tibi Cocktail Dress
Actual Bag: Bvlgari Serpenti Bag
Steal Bag: Rachel Zoe Charlotte Bag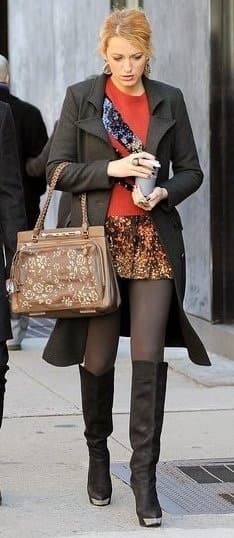 Welp. S loves a good sparkle and shine, but this outfit is all wrong, with a blast from the past sweater (lightning bolt much?) and an over the top sequin skirt- how is anyone supposed to take her seriously as a journalist? Oh, wait ...
Actual Coat: Vena Cava Judy's Coat
Steal Coat: Thakoon Addition Utility Trench
Actual Sweater: Marc by Marc Jacobs Quad Sweater
Steal Sweater: Torn by Ronny Kobo Jovia Heart Sweater
Actual Skirt: Haute Hippie Embellished Mini
Steal Skirt: Alice + Olivia Petra Ruffle Skirt
Actual Bag: Valentino Demetra Leather Satchel
Steal Bag: Rebecca Minkoff "The Chance" Briefcase
We're sure if B's original shower was still on, she would be dressed in something fabulous. On the contrary, still in the blue hues and fighting all her Bassian desires, she opted for something a little more off-the-cuff shall we say for her night of drunken debauchery. Also what was that crown? Was Jennifer Behr not available?
Actual Dress: Alexander McQueen Zip Front Dress
Steal Dress: Jarbo Ruched Long Sleeve Dress
Actual Shoes: Alexandre Birman Python Mary Jane Pumps
Steal Shoes: Chinese Laundry Justice Served
Actual Earrings: RichRocks Faceted Sapphire Earrings
Steal Earrings: Tom Binns Albiceleste Earrings
Actual Coat: Alice + Olivia 'Teagler' Sequin Patch Pocket Peacoat
Steal Coat: ADAM Long Metallic Tweed Coat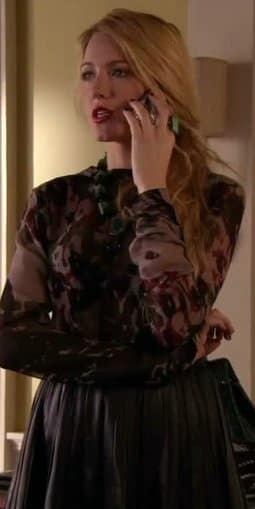 S almost went conservative on us, then we noticed the collared blouse was semi-see through. She is killing that leather skirt and taking charge as the responsible BFF who didn't come to the bridal shower she allegedly planned. Ouch.
Actual Top: Sam & Lavi Floral Top
Steal Skirt: Milly Marian Print Tie Blouse
Actual Skirt: Parker Leather Skirt
Steal Skirt: Payne Bold Leather Skirt