Gossip Girl Fashion 2011 Retrospective: Best of Serena van der Woodsen

TV Fanatic Staff at .
And we're back! Four days and counting and we'll all be glued to our TVs for Monday's Gossip Girl return. As Twitter feeds and Facebook posts explode with teasers and theories, let's talk about something we know - how our favorite Upper East Siders continue to wow us with their style week after week.
The talk of the hour today? Serena Van Der Woodsen.
She may be utterly confused about 75 percent of the time, she may never be lucky in love, and she may never reveal all the secrets that reside in that blonde-haired head. However, she does dress well, at least most of the time.
We previously took a look back at the best of Blair Waldorf fashion from the past year. Now, we present a look at Serena van der Woodsen's top style moments in 2011.
15. Temporarily living life on the West Coast at the start of Season 5 brought our golden-haired beauty a sense of power and a real kick of color, love that coral jacket (above left).
Actual Blazer: Topshop Coral Crop Jacket
Steal Blazer: Katie Ermilio Cuff Blazer
Actual Dress: Shipley & Halmos Catalina Tank/Porter Grey Floral Chiffon Skirt
Steal Dress: BB Dakota Sabrina Dress
14. A sort of homage to her own debutante ball, S bows up in a fringed Marchesa number for "cousin" Chivy's introduction to Upper East Side society (above center).
Actual Dress: Marchesa Ombre Fringed Dress
Steal Dress: Frock! by Tracy Reese Tessa Fringe Dress

13. Though dressed casually, our girl still shines with a double dose of sequin and a classic handbag. (above right)
Actual Sweater: Gryphon Beaded Cardigan
Steal Sweater: Eryn Brinie Sequin Sweater
Actual Bag: VBH Crocodile Keyhole Satchel
Steal Bag: Foley + Corinna Quilty Tote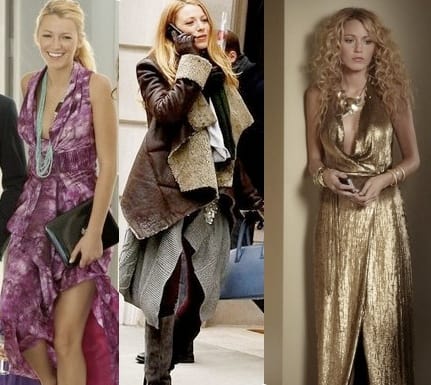 12. There she is in all her boho glory, a sleep ponytail. Tie-dye maxi, and a couple of strands of turquoise screams California girl (above left).
Actual Dress: Haute Hippie Halter Gown
Steal Dress: Reformation Beirut Long Dress
11. Just because Serena is the face of "Manhattan's elite" doesn't' mean she can't go grunge for an afternoon, at least she does it en vogue (above center).
Actual Jacket: Catherine Malandrino Leather Jacket
Steal Jacket: Doma Shearling Lined Jacket
Actual Cardigan: Catherine Malandrino Cardigan with Distressed Metal
Steal Cardigan: DKNY Cozy Cardigan
10. Rocking the curls and wearing metallic in honor of oldie, but big time party girl CeCe, S glows in gold (above right).
Actual Dress: Diane von Furstenberg Clarice Dress
Steal Dress: Trina Turk Kristel Gown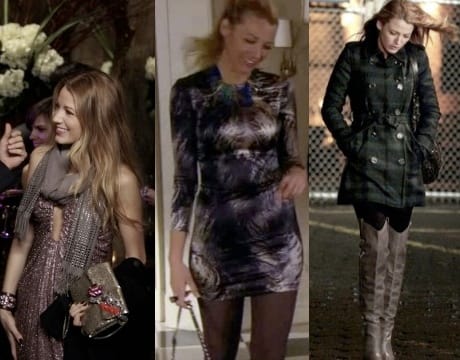 9. During that random trying-to-date-Ben phase, Serena tried to lay low on her wealthy lifestyle, but you can't keep a star from shining. Though that cozy cashmere scarf is covering it, that fabulous purple number stands out like a sore thumb (above left).
Actual Dress: Kaufmanfranco Halter Neck Dress
Steal Dress: Doo.Ri Macrame Gown
8. Sleek in a long-sleeve shift with a gem collar necklace and sky-high purple pumps gives S that It-Girl status, suitable for her Spectator column (above center).
Actual Dress: McQ by Alexander McQueen Silk Feather Print Dress
Steal Dress: Rebecca Minkoff Frejac Printed Dress
7. A double-breasted pea coat makes is essential for warm winter fashion, especially when it's Burberry (above right).
Actual Coat: Burberry Brown Wool Trench Coat
Steal Coat: Mackage Ayumi Jacket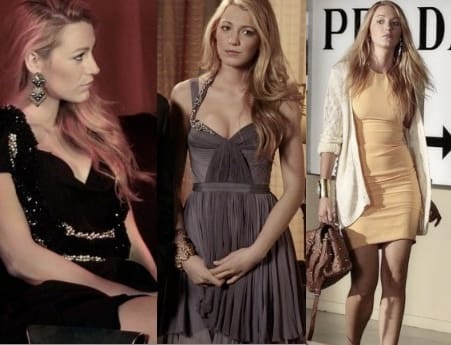 6. Suited for "The Big Sleep No More," Serena glams up in Moschino for her date with a mysterious boy, who leaves her waiting (above left).
Actual Dress: Moschino Spring 2010 RTW Black Beaded Cowl Neck Dress
Steal Dress: Akiko Cowl Neck Dress
5. Playing B's date for a big night, Serena plays the subdued subtle look to give her bestie the night to shine (above center).
Actual Dress: Jenny Packham Resort 2011 Beaded Halter Dress
Steal Dress: Pencey Cutout Dress
4. Making a serious entrance, here comes S lofting back from Cali with a sunkissed tan and a curve-hugging orange stunner (above right).
Actual Dress: Yigal Azrouel Optic Colorblock Dress
Steal Dress: Herve Leger V Neck Dress
3. Short, backless, and with a train, Serena looks runway ready at her mother's pink party (above left).
Actual Dress: Marchesa Fall 2010 Dress
Steal Dress: Kimberly Taylor Peru Asymmetrical Dress
2. Old school glamour and charm make our girl the center of attention for her family photo (above right).
Actual Dress:  Notte by Marchesa Ruffled
Steal Dress: Riller & Fount Bronco Strapless Dress
1. The thing about Serena's beauty? It's flawless. A simple black gown, a braided bun, and a bold lip are all that she needs to top this list.
Actual Dress: Ralph Lauren Black Label Antonia Beaded Dress
Steal Dress: Zac Posen Flared Gown