Note: I will remain as calm as possible while recapping Showtime President David Nevins' panel today at the Television Critics Association winter press tour, as he delved in to the two major developments from season six of Dexter and, well, I made it very clear how I felt about those in my review of the finale.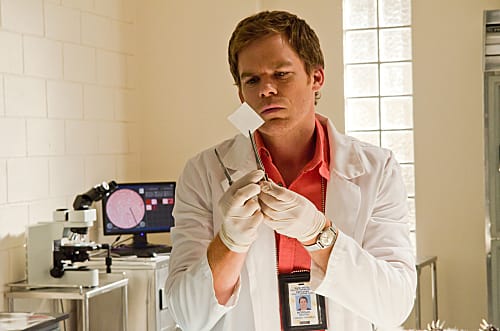 Of Deb's realization that she loves Dexter, he said: "I'm aware that there's a certain taboo despite fact that they're not genetically related, but [this is] something that has been building over a number of yearss" and it's "an idea that's informed how [the writers have] done this show for a long time."
Of Deb walking in on Dexter, mid-ritual, he said the reveal marks "a very clear trajectory [for] the next two seasons and it's going to help to write with that endgame in mind. There should be fundamentally different dynamics now that Deb [knows about Dex] and it's going to ricochet."
Hey, I'm all for mixing up what has become a stale premise, so I'll go into season seven with an open mind. It's just... Deb loves Dexter... really?!?
Matt Richenthal is the Editor in Chief of TV Fanatic. Follow him on Twitter and on Google+.