After many seasons of Archer talking about his man crush, it was only fitting to bring in Burt Reynolds for the show's real season three premiere, "The Man From Jupiter."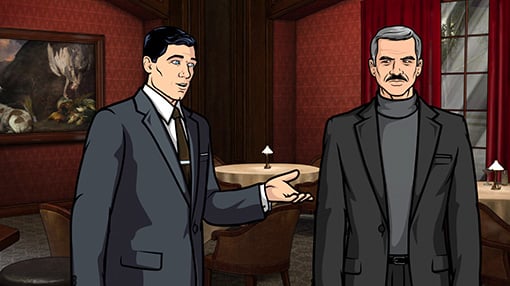 No, I'm not counting the amazing "Heart of Archness" miniseries. As hilarious as Pirate King Archer may have been, this season began tonight.
Here, we meet up with Archer at a bar, hilariously failing to pick up two chicks. Well, only one on camera. The hot one was in the powder room. That's when we met Reynolds, playing himself, and stealing every scene he's in.
Luckily, Archer got all his Reynolds movie references out of the way within the first few seconds of meeting his hero. And for those of us that never took the time to see the first two-thirds of the soon-to-be McClusky trilogy, we were treated the most hilarious self-referential news possible: there never were any airboats in Gator.
In "Pipeline Fever," Sterling made a reference about he's been waiting his whole life to say he was commandeering an airboat. Airboats that apparently never existed in the movie. Intentional by Reed? Or a hilarious mistake he's admitting to this week?
Anyway, on to the episode and the mission on hand. Well, there wasn't really any spy mission to speak of per se. The closest thing would be Archer's kidnapping of Reynolds and their subsequent car chase to rescue the ISIS goons from the Cuban hit squad.
The real entertainment of the episode simply stemmed from Archer with Reynolds, as he attempted to adjust to his hero giving his mother mustache rides.
I think the slow elevator descent conversation best exemplified my feeling from the episode. I could have sat for a full half hour of these two having a conversation about condo commandos, bat poles and garbage chutes and been entertained.
But luckily, we had plenty more via Reynolds showing off his action star skills as he attempted to make a movie premiere with Mallory. Some of my favorite moments, obscure references and just my general observations:
Elaborate voicemail hoax.
Poor Krieger!  He finally got a brand new van only to have it destroyed (again)!  Anyone catch the name he gave it?
Man, that van really was slow with all that handicap shit.
Lana arguing with Ray about his handicapable field abilities and his retort with affirmative action.  Too offensive or too funny? 
Call me Hollywood, but a Primm's Cup in a Pimp Cup may be my new drink of choice.
Loved you in Gone With the Win Mr. Gable.
$9,000 for a bat pole really doesn't seem that expensive to me.  I mean, he is on the penthouse...
Wait, was that the same footage?
Is it just me or were there more NYC references than usual?  Maybe just an excuse to get Hawk in there.
Obscure reference of the week: Hal Neeham or Carol / Stockard Channing?
If this week combined with the mini-series was any indication, we're in for a damn strong season of Archer. What did you guys think of Reynolds' appearance? All it could be and more?
** Don't forget to hurry up and take part in our Archer giveaway!
Eric Hochberger is the programmer of TV Fanatic, so please forgive his mediocre writing. His programming is far better. Follow him on Twitter and/or email him. Just don't request threaded comments. They're coming.