You guessed it. We faced the music once again on The X Factor, as the remaining seven finalists performed tracks from the late King of Pop, Michael Jackson.
After we said hello to Michael's brothers Marlon, Tito, and Jackie of the Jackson 5, Michael's mother and children were introduced before any of The X Factor's contestants were brought out on stage. Intermittently asking the Jackson family about their thoughts on the show proved one thing: Prince Jackson is all about the limelight. He and Paris didn't let Blanket say one word.
Let's get to the performances, shall we?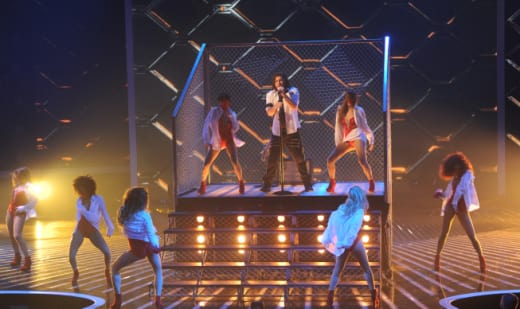 Josh Krajcik "Dirty Diana" - The sound mix was off again. I couldn't really hear anything he was saying. I didn't like how very talky Josh was throughout this. The backup singers then came in and over powered him completely. Then there was the fact that he had the guitar on his back for the first 2/3 of the performance. He finally broke out the axe for a solo where he yelled "come on!" a bunch of times. This was definitely not his best effort.
My Score: 5/10
Astro "Black or White" - He's a great lyricist and can spit extremely well for a kid. He even improved on his stage presence a bit during the "It don't matter" parts, but it was never more clear that he raps the same way every time. The rhythm of his rapping didn't fit with the song at all at the beginning. Luckily, they completely scrapped "Black or White" midway through the performance, and his rhymes matched with their newly created melody much better towards the end.
My Score: 7/10
Drew "Billie Jean" (below) - This was a huge improvement over last week. Stripping down the song, accentuating her vocal abilities, and giving her unique tone a platform was a perfect way to allow Drew to succeed. The only downfall here is that David Cook did the same thing to "Billie Jean" a few years ago on Idol, so she loses some of the originality points.
My Score: 9/10
Rachel Crow "Can You Feel It" - She has the attitude and the powerful voice, but she continues to have these weeks where she doesn't connect at all. I realized once again this week that she is a great performer, but Rachel doesn't always put forth great performances. This was one of those subpar outings. She's been fantastic on all of her ballads, but it's almost that she just doesn't know how to get the same excellence out of upbeat numbers.
My Score: 6/10
Marcus Canty "PYT" - Let us not take for granted how difficult it is to run around stage, dance up a storm, keep your breath, and still hit all of the notes. Many a singing show contestant has failed to meet all of those requirements before, so as much as Simon wants to talk about phantom vocal mishaps we should all praise Marcus for his efforts. This was right up his alley, as he proved to be the only contestant that looks comfortable in the big produced numbers. If anyone else has a bunch of dancers on stage, it's overproduced. With Marcus it looks normal. He can be a pop star.
My Score: 8/10
Chris Rene "I'll Be There" - I am a complete sucker for the raspy tone in his voice. When he broke it down after his rap, I dug it. He definitely missed a couple of the big notes, but the dude's swag is just dripping from him, so he gets a bit of a pass. I mean... did you see that bedazzled letter jacket? He just has something that makes it all work.
My Score: 7/10
Melanie Amaro "Earth Song" - She just has a really good voice and there's nothing anyone can do about it. It is so mature and rich, which she showcased very well here. The only issue I have with Melanie is that the sound isn't nearly as unique as someone like Drew. Her tone isn't all the interesting to me.
My Score: 8/10
It was a pretty solid night of music overall. It was also good for some laughs, especially the fact that Steve Jones thinks "LOL" stands for "lots of laughs." Come on, Steve! You're better than that! What does "WTF" stand for?  Why the face?"
Although I thought Josh was the worst of the night, I'm predicting a bottom three of Astro, Marcus Canty and the surprise: Rachel Crow. Who do you think was the best of the night? And who do you expect to go home on Thursday?
Dan Forcella is a TV Fanatic Staff Writer. Follow him on Twitter.