The largest issue I have with the Terra Nova season finale is that there were many nice moments that could have been great if they weren't part of a show that - in general - is just not good. 
For example, the early scene at the bar was nice. Lucas making a big deal about his pseudo brother/sister relationship with Skye was funny, and then after he tried to go a bit too far with his fake sister, Josh coming to the rescue was admirable.
Lucas again proved to be a viable villain as he took a number of free shots on the teenager, before Big Jim Shannon came storming into the bar to save the day.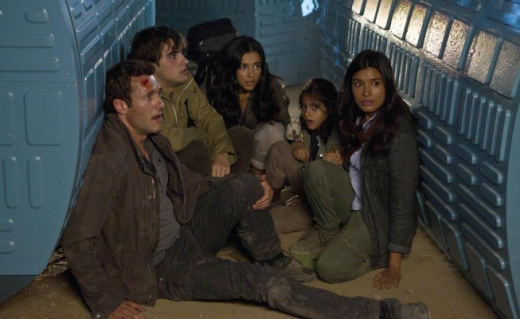 For as smart as Elizabeth is supposed to be, this was the first time she really did anything to prove her intelligence.  Her ruse on Weaver, which got him to give up Jim, was bright, hilarious, and moved the plot exactly where it needed to go.  It took 12 episodes, but Elizabeth finally did something worthwhile.

Unlike a number of the times that Terra Nova has attempt to pull at the heart strings of its viewers, the sweet moment between Zoe and Commander Taylor worked like gangbusters. It worked because it was an honest moment between two characters that we have had a chance to get to know over the season's run, and two characters that we've seen have a history (Zoe playing Taylor at the festival).

It didn't hurt that the girl's "If you need another hug, just ask" was the cutest darn thing I've ever seen.

As much as I've disliked Commander Taylor to this point in the series, the moments I have enjoyed him have all had to do with his relationship with Lucas, so when things looked like they were going to heat up between these two, I got excited. It was pretty obvious that Lucas was pulling a fast one on his dad with the "I'm sorry" bit, but that doesn't mean it wasn't interesting to watch.

Also, there was the added bonus of Lucas's new-found fake sister coming to Pops's rescue when Skye shot up Lucas. I'm just glad Luke managed to get away. Ashley Zukerman killed it again this week.

Finally, there was a bit of intrigue as the first season's story came to a close. Now that the portal and Hope Plaza have been destroyed, it seems like there will be no contact with anything other time period. Where did that figurehead come from?  Interesting.

As is true with most of my compliments of Terra Nova, you have to take this praise with a grain of salt. All of these positive moments didn't resonate nearly as well as they could have because of the problems Terra Nova has had in the past and in this episode itself.

If you've been reading my reviews throughout the season, you know my main problems with the show are the sub-par acting, the awful dialogue, and the series not being able to figure out what kind of show it is.

All of these issues were evident in "Occupation/Resistance" as were some of these weird, wacky things of note ...

The bad guys came to Terra Nova and put up the most evil looking flags and logos they possibly could.  

Throughout the year I have heard "klicks" more than anyone should ever have to in a lifetime. What was surely meant to give this world its own little details, just began to annoy me time after time after time. Are there no other units of measurement in 2149?

What a difficult job that woman we had never seen before had in disabling that bomb! She never saw that kind before but she thought she might be able to figure it out. Did you notice what she ended up doing? She cut every single wire. Wow! Brilliant!

The plan by the bad guys was just so elaborate. How many trips were they planning on taking? Was the reward worth the effort it was taking them to do all of that? And this Weaver guy was the right man to bring back? The guy shooting brachiosauruses for the heck of it? Jeez.

So there was some good and there was some bad in the Terra Nova season finale. This series definitely didn't turn out to be what I hoped it could be before the season started, but it also isn't completely dead. If there is a second season, I will continue to watch to see where this story goes.

What about all you TV Fanatics? What did you think of the Terra Nova season finale? Are you interested in seeing a second season of the FOX series? And did Jim Shannon prove that not only Cool Guys Don't Look at Explosions?

Dan Forcella is a TV Fanatic Staff Writer. Follow him on Twitter.

Tags: Terra Nova, Reviews