Sons of Anarchy Season 5 Teases: The Return of Opie, Wendy?

TV Fanatic Staff at .
It would have been too easy.
That was Kurt Sutter's response yesterday during a conference call with reporters, when asked why he chose to keep Clay alive on the season four finale of Sons of Anarchy.
"We get to play that out now with Jax and Clay, and I think that's great turf for potent storytelling," the creator said. "I want to see what that looks like for a season or two."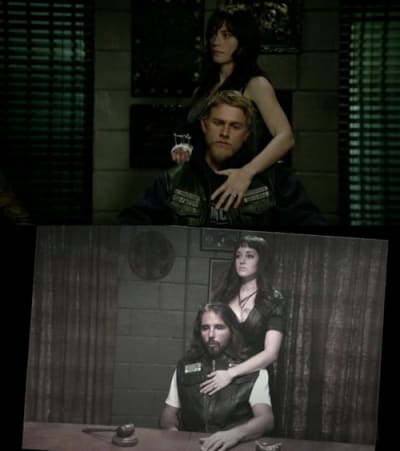 Aside from extreme tension between past and current SAMCRO Presidents, what can viewers expect from the intense series on season five? Sutter offered the following teases:
Will Opie return? "I think it's all just sort of catching up with Opie and he's not a guy who processes things quickly. It will take a minute for him to get back to that table, if he does get back and that's something we get to play off next season."
What about Wendy? "I like the character very much... I just think she will be, in a very general way, very interesting to throw into the mix with Gemma and Tara next season."
Is Tara the new Gemma? Not totally: "It'll be an interesting season between the two of them... [Gemma] has ultimately created a little bit of a Frankenstein... I don't think Gemma will be usurped... Tara is not Gemma. She's not there yet. Next season, not that I'm going to take a step back, and bring her back the wavering Tara that she's been to a certain extent, but I think she will have her struggles in that role."
What will the tone of season five be? "My sense for next season is that it will be a slower boil. This season, everyone was sort of out of breath at the end of every episode, and my sense is that next season that won't be the case."