Parks and Recreation Review: The Sport of Gift Giving
Nick McHatton at .
Good luck, 2012. With "Citizen Knope," Parks and Recreation concluded to set the weekly bar at no less than awesome, giving you quite a challenge when episodes pick up again in the near year.
A lot of things were set in motion this week, as the plot is casting a wide net in terms of bringing all of the characters together into one big story.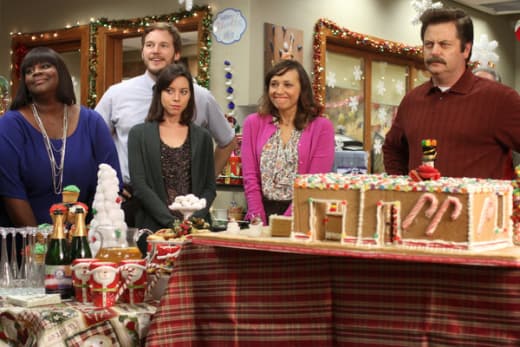 With Leslie on temporary suspension, we get to see her attempt to exist outside of her natural habitat. The most hilarious examples of how this is a woman that simply needs to be innovating and moving at all times? In a word:
Salger
. In an acronym? and
PCP
, as in The Parks Committee of Pawnee. Indeed, Leslie was going stir crazy, doing anything to worm herself back into the department, which was welcome news to all viewers who go to witness her zaniness come to the forefront.
The opening with Leslie sneaking into her office to copy work from her computer was a classic Leslie move, and the scene finally gave me more than a chuckle from Chris.
Speaking of Chris, it finally didn't feel like an absolute chore to watch him. Mostly because he was used moderately and was given a purpose in each scene. Many times Chris is just the random, health-obsessed boss that comes jogging in for no real reasons. This time, he served as a roadblock to Leslie, and not only did it work, but the comedy was there at all times.
Ben, meanwhile, is still on the job hunt. I'm happy that Parks is taking its time with Ben instead of rushing out and placing him in some type of occupation that won't work out in the end (also known as Entertainment 720). Letting Ben flap in the wind, wondering what he wants to do, is a great parallel for him to really accept Pawnee as his home, along with his place in it. Or this could all just be a stall tactic for Ben to join Leslie's campaign along with everyone else.
With Leslie polling at the bottom of the milkshake, and her campaign managers calling it quits, her friends really stepped up to help her with her run for city council. It's a great way to really integrate the entire cast and point them all in one direction. The possibilities of what that can do really excite me.
Now, even with the conceivable B and C storylines, the character can all be cast under the wide campaign umbrella. No more unnecessary (and boring) random stories that are more annoying than they are funny.

Other thoughts:
Ann's face when she found out how much she was loved by Leslie was priceless.
Leslie's gift to Ron was awesome, and I hope it gets used once in a while.
I love that Ron's walls can, and do, cave down for Leslie.
LSD.
April and Andy hiding in the closet waiting to finish eating Leslie's dinner.
NBC needs to sell an art book (or posters) because I would totally buy Leslie's nymph painting and April's Black Eyed Peas beheading painting.
What did everyone think of tonight's episode? Sound off in the comments and be sure to visit our quotes page and vote on your favorites!