Let the money change hands and the mourning begin.
"The Heart is a Lonely Hunter" finally revealed that, as many fans had wagered, Sheriff Graham was the Huntsman from Snow White. And just when I was sold on the chemistry between him and Emma, the Queen stole him back the only way she could.
I love Once Upon a Time because it's like a mini-movie every week and I'm completely enthralled by this intriguing other world filled with characters that feel familiar yet completely new.
One kiss with Emma and Graham is more than just enchanted, he's spellbound. Memories of his fairytale life come flooding back, including his spirit guide. It's the same wolf that ran Emma off the road to keep her in Storybrooke.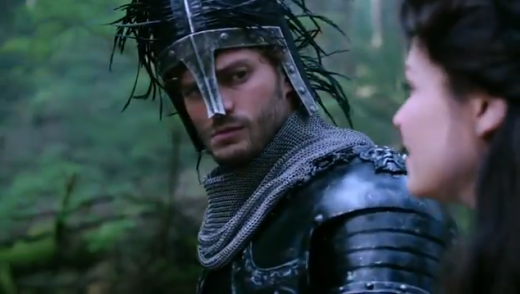 Before you know it, Graham is spiraling out of control with strange memories, the type that lead him to Mary Margaret and then Henry, who is the only one who doesn't think he's delusional.
As the story unfolds, we find out the reason Graham is with Regina but feels nothing is because - as the Evil Queen - she ripped out his heart Indiana Jones-style and holds it hostage. The best part about Graham's search for his missing heart is that it leads to his breakup with Regina where he tells her that feeling nothing is better than being with her. Oh, you know that's not going to go over well. 
Then, Regina provokes a fight with Emma over her man. Calling it a cat fight is underestimating these two women. They're more like tigers. The power radiates off of both of them. Someday it'll be fun to see a brawl between them that doesn't get cut short.
The end is heartbreaking. Graham tenderly ministers to Emma's wounds as Regina stalks down her secret passageway to her lair... where a heart awaits her vice-like grip. The final scene proves two things: Emma's walls can't protect her heart from being broken - and Regina is definitely an evil witch.
Other questions I'm left with:
What type of gardening was Mr. Gold doing in the forest?
What secret did Snow White spill that led the Evil Queen to want her dead?
Is there a reason why the wolf has one red and and one black?
I can't believe we have to wait until January to see the rest of Snow and Charming's love story or find out if Emma suspects Regina's involvement in Graham's death. As much as I love the holidays, I'll be counting the days until this fascinating fairy tale returns.

C. Orlando is a TV Fanatic Staff Writer. Follow her on Twitter.

Tags: Once Upon a Time, Reviews
Want more Once Upon a Time?
Sign up for our daily newsletter and receive the latest tv news delivered to your inbox for free!
More From TV Fanatic

Jane and Maura get drawn into the world of rare books and coded confessions when a book seller hiding a secret is murdered on Rizzoli & Isles.

On Perception, Daniel and Kate investigate an art heist. Also, Daniel must make a decision about his love life.

Things on Pretty Little Liars looked pretty darn bleak this week as Hanna's friends started to get sick of her but Zack couldn't get enough. Read the review for more insight into the latest installment!

Evan, Paige and Bob confront Russel about his rug theft, while Divya and Jeremiah treat a woman desiring to be a mom. But were those all the surprises the Hamptons had to offer? Read our review of "I Didn't See That Coming" now!
---