What an unmodel-esque episode of America's Next Top Model. As the penultimate installment of All-Stars, I expected crazy photoshoots with exotic costumes and cinematic backdrops. Instead, I got "Modelland" and the strangest Tyra motion shoot to date on "Tyson Beckford."
Although the prizes for the All-Stars cycle have been impressive, asking the girls to write a blog post for Vogue Italia seemed irrelevant. Should models be good writers? Will the winning blog post ever see the light of day? It's doubtful.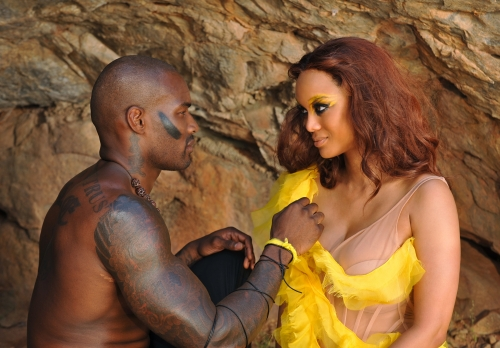 But the girls dove into the task with gusto, because it is for Franco Sozzani, the editor of Vogue Italia herself. Plus, winning a trip to Crete is pretty sweet. In the end, Angelea prevailed for her "gritty" realism.

Tyra's product placement for "Modelland" was despicable. Not only was she depriving the struggling models of an additional photoshoot; she was subjecting them to a bizarre motion editorial to promote her book. And what a bizarre book it is. Tookie? The scene with Laura and whipped cream? So. Much. Dreckitude. Don't you agree, Andre?

Lisa, who made it much further than I expected, was the best actor with her "mother" scene. Angelea also kicked ass by channeling her rough childhood. Poor Laura didn't fare as well, but what she was given was so strange that I thought she was at a clear disadvantage.

Tyson Beckford, the insanely gorgeous male model saved the day and the photoshoot. Even Tyra seemed giddy to see the sexy man, which explained why she hijacked the shoot for herself. Honestly, Tyra was quite dislikable during her motion editorials.

The judging was fairly predictable as well, while the strange editorials turned out well with massive editing. How awkward was the scene where Tyra sucked on Tyson's thumb?

Although I hoped that Laura and Allison would be in the final two, I figured Laura would be doomed from her sad whipped cream performance. And then, with one episode remaining, there were three.

Are you ready to see Allison, Lisa, and Angelea in next week's finale? I'm 100% rooting for Allison. How about you?

Tags: America's Next Top Model, Reviews
Want more America's Next Top Model?
Sign up for our daily newsletter and receive the latest tv news delivered to your inbox for free!
More From TV Fanatic

Power struggles ensue all around Chester's Mill on Under the Dome. Lives will be put on the line.

Scott decides to get tough on Teen Wolf after rescuing his Beta by declaring he won't sit back and watch more deaths. Find out what else went down in the review!

Heather and Tamra consider making peace with Shannon on The Real Housewives of Orange County. See what went down in our TV Fanatic review!

On Murder in the First, the trial of Erich Blunt reaches its conclusion. But what is the verdict? Find out when you read the review.
---