The X Factor Top 9 Results: Two More Go Home
by Dan Forcella at .
In a special double elimination results show on The X Factor, America sent two acts home, leaving the final seven to contend for the championship. After listening to a pair of performances by Kelly Clarkson and Bruno Mars, the results came quickly.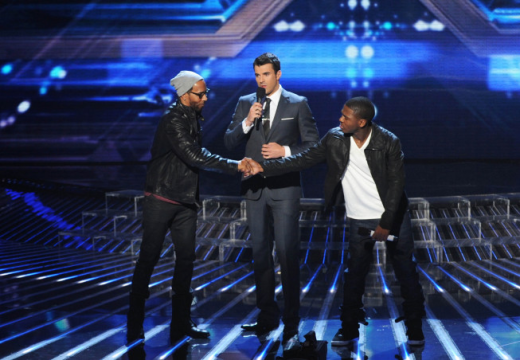 First, Steve Jones brought Drew and Lakoda Rayne out in front, noted that one would be in, and the other received the least amount of votes by America, and would be leaving the competition. As I predicted last night, the Rayne girls were the first to go tonight, while Drew moved onto next week's Top Seven.

It was then time to pick the next two lowest vote-getters, and five of the six acts joining Drew in the next round. The advancing contestants were. in no particular order; Chris Rene, Rachel Crow, Josh Krajcik, Melanie Amaro and Astro.

That means that Marcus Canty and LeRoy Bell gathered the second and third least amount of votes in the bunch. It came down to the judges' pick and here is what they decided...

L.A. went with his boy Marcus Canty.

Nicole Scherzinger went with her man Leroy Bell.

Paula put some thought into it, but chose to save LeRoy because his Showdown performance was better (which it definitely was).

Simon then decided to put it in the hands of America, picking Marcus to make it a 2-2 tie.

Going by the final America's vote tally, the second contestant eliminated this week was...Leroy Bell. Marcus Canty moves on this week.

There was not nearly as much drama as last week's Astro-pocalypse, but the field was cut from nine to seven, which is serious business. Two of the seven - Astro and Marcus Canty - have been among the bottom vote-getters. Who among Drew, Rachel, Josh, Chris, and Melanie is leading the way? I think any one of those five could take it, but my money is on Josh Krajcik.

What do you think?

Dan Forcella is a TV Fanatic Staff Writer. Follow him on Twitter.

Tags: The X Factor
From Around the Web