I'm not saying that Terra Nova has all of the sudden become quality television, but "Vs." easily created the most intrigue the series has seen since the pilot.
Did a majority of the interesting aspects derive from the final 10 minutes of action? Yeah, but that's a trick TV writers have been using for all of time. Leave a great taste in viewers' mouths and they'll be excited to come back for more.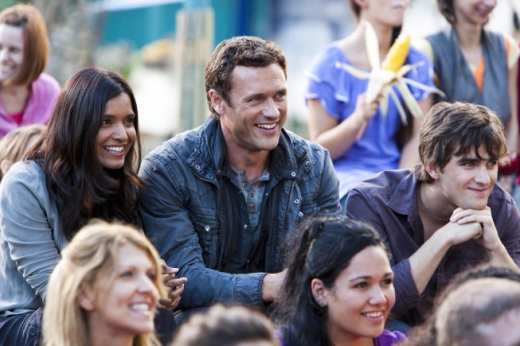 The sequence in which Taylor detained Jim - revealing what in the heck was really going on with him, the Sixers, his son and the recently discovered General Philbrick - piqued my interest big time.

Over the past couple months I have grown accustomed to watch Terra Nova with the excitement of a comatose 80-year old, but all the talk about what the Sixers are really doing, and what Lucas was up to got me to the edge of my seat... just barely.

So the Sixers have been sent to Terra Nova to pillage this new world for resources, essentially attempting to make the Powers That Be rich with goods and such. That's about what we were expecting from them, but what really got my blood pumping was all of the stuff between Taylor, Philbrick and Lucas.

That flashback sequence was intense, and I love every second of it. Taylor killing his mentor, and then being begged by his son to kill him, too, was pretty awesome.

Now that we have learned about the Sixers, and what happened to Commander Taylor back in the day, I worry that any suspense we had about the series will be lost going forward. Thankfully, Lucas and his efforts to make the portal a two-way street are still alive and kicking.

Hopefully that's the focus and major foil for Jim and Taylor as we head down the final stretch of what we all assume will be the lone season of Terra Nova.

Realistically, though, these issues will probably be sidelined for more procedurally styled one-off episodes where a giant tarantula comes into Terra Nova, and Zoe fights it off with a special crayon. Well not that, but something as ridiculous as that.

While my interest topped out with the final moments of the episode, the rest of it was pretty much paint-by-numbers. There was a crime to solve (this time it involved a skeleton), Zoe did something cute (specifically playing a fantastic Commander Taylor) and every teenager in Terra Nova was annoying.

So before anyone lays claim - myself included - that Terra Nova is fantastic television, don't be a prisoner of the moment and remember how pedestrian the first two thirds of "Vs." was.

What did you all think? And how fake looking was that gigantic dragonfly?

Dan Forcella is a TV Fanatic Staff Writer. Follow him on Twitter.

Tags: Reviews, Terra Nova
Want more Terra Nova?
Sign up for our daily newsletter and receive the latest tv news delivered to your inbox for free!
More From TV Fanatic

On Tyrant, Bassam attempts to find a peaceful resolution instead of a revolution. Will he succeed?

On tonight's Covert Affairs, Annie and Auggie switch jobs and head to Paris. Will Auggie succeed in the field with Annie as his handler?

Usually it's insults that get tossed around on The Real Housewives of New York City Season 6 Episode 20 but Aviva threw out a leg. Her own! On the dinner table. We attempt to make sense of the nonsense in our +/- review.

On Perception, Daniel and Kate try to track down a missing baby. Kate also must deal with Donnie's talks about their own future children.
---