Although it is still not living up to preseason expectations, at least Terra Nova reverted back to the type of show I though it would be, and the sort of show it has the best chance of excelling at, in "Nightfall."
These people are living in a world that is both hundreds of years in the future and millions of years in the past. It is a perfect opportunity to keep the audience intrigued by mysterious storylines. That's something it has failed to capitalize on since the pilot, but did a much better job here.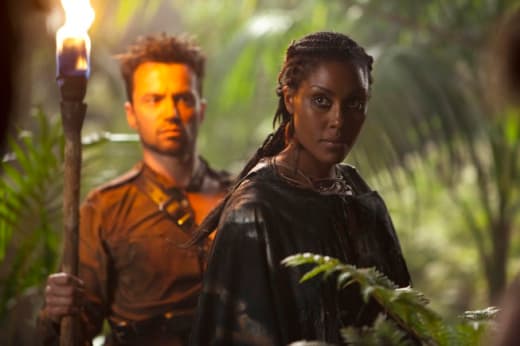 The meteor shutting off all power at Terra Nova became a nice opportunity for Mira and the Sixers to go looking for the box that Taylor and company could not open. Because they found it so easily after distracting the Commander with a giant dino, it was once again clear that Mira has someone on the inside.
Although it's a plot that may be a bit played out, there being a mole for the Sixers inside of Terra Nova is at least interesting.
Even more interesting is what happened after Mira retrieved the box. She gave it to the only man that could open it, Lucas. Lucas, who we all could have guessed was Taylor's son, had to overtly let it be known who he was because apparently we're not smart enough to figure things out.
What Terra Nova did not make as obviously clear was what the heck those equations and symbols from the box were all about. The equations on the rocks from the series premiere was one of the things that had me most intrigued, so finally bringing them back into play is a very good thing.
Whether or not the series can capitalize on that, and make sure that this mystery goes somewhere in the future, is a question for another day.
Another aspect of the show that Terra Nova has the possibility of excelling at is sprinkling in a bit of the Shannon family dynamics. We witnessed the good and the bad of the Shannon family in "Nightfall."
Let's start with the good. Jim and Zoe together are great. Jason O'Mara works best with Alana Mansour, and she is just too adorable not to be taken by her every second she is on screen.  Watching them during that brief history lesson/trip to the amusement park was just fantastic.
Then there was the bad. Everything that happened between Maddie and her boy toy was simultaneously unbearable and ridiculously boring. I'm not quite sure if I could care less about what goes on with this girl, or if I care enough to say that I don't want her on my screen anymore. I came into the season thinking Josh was going to be the teenage kid I couldn't stand, but at this point it has turned out to be Maddie.
While we are on the bad, how awful was the entire hospital sequence with Elisabeth and Skye? Not only was she incredibly dumb for handing off such a huge responsibility to a girl with no experience, but it was completely out of character. This woman is unbelievably serious about her work, how short staffed could they be that she is just handing things over to Skye?
"Nightfall" was another less than stellar hour of television, but for Terra Nova, it had some of its better moments since the premiere. What do you all think? Did you see some reasons to have more hope for the rest of the season?
Dan Forcella is a TV Fanatic Staff Writer. Follow him on Twitter.