It looks like Emily Thorne will need to wait a couple extra weeks to take revenge on the culprit who shot down Daniel Grayson on this drama's September premiere.
Due to the success of Revenge, creator Mike Kelley has altered his original plan a bit: the mystery surrounding Daniel's murder will now kick off on the show's 15th episode. Why the change?
"Before we got our full-season pickup, I wanted [the reveal] to be episode 13 because I figured that, in case the show was only hitting for a smaller number of fans, I wanted to be able to satisfy the people who had tuned in and make sure it had bookends," Kelley tells EW. "But we're finding we have so much story to tell."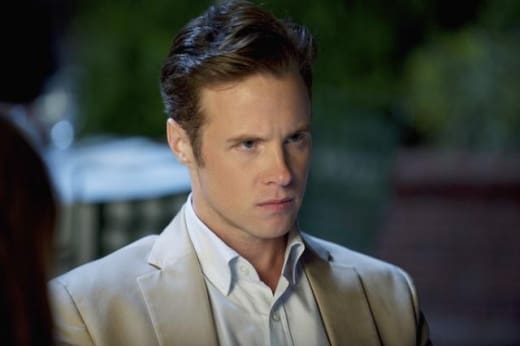 And a lot of that story centers around Daniel's creepy friend, Tyler.
"We just love the idea that this guy really wants to become Daniel," Kelley says. "He gets more and more dangerous. The more and more he become marginalized by Daniel's relationship with Emily, coupled with his inability to really crack into the Grayson empire on Conrad's side, causes him to generate some pretty shocking story down the road."
Beginning with tonight's new episode - previewed HERE - viewers will also start to see how Ashley plays into these plans.
"There's a large story coming between her, Tyler, and Nolan," Kelley teases.