Welcome to the latest edition of the Revenge Round Table!
Coming off yet another suspenseful episode of this ABC smash, one that featured the annoying presence of the real Emily Thorne Leigh Raines, Christine Orlando, Chandel Charles and Dan Forcella have gathered to dissect various aspects from the hour. Would you care to join them?
-------------------------------------------
Give me the number of episodes it will take Lydia to regain all of her memory from the past two weeks.
Leigh: Oh it's already in motion. I'll give it one more episode. As Celine Dion sang, "It's all coming back, all coming back to me now!"
Christine: Oh, the wheels are already turning. I'm betting two more episodes. She'll probably remember a lot as we go off into winter break and leave us all hanging about what will happen next.
Chandel: Given the minutiae she was able to recall with regards to that photo which included Emily, I think it'll be no time, if it hasn't already happened.
Dan: The whole memory thing is a hoax. She has been using it as a ploy to get more information about stuff she never knew to begin with.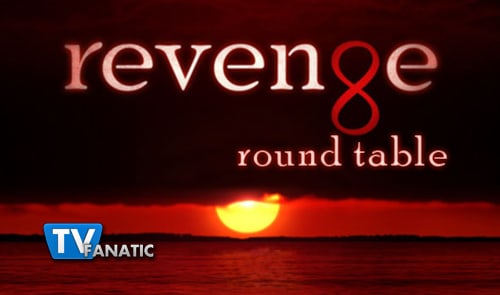 More interesting new dynamic: Amanda and Jack? Or Amanda and Emily?
Leigh: Amanda and Emily. This is a Single White Female situation set in motion. They may have been besties when they were locked up at juvi, but things have changed. Amanda sees a life that she wants and she's the only person who holds a ton of leverage over Emily's head.
Christine: Definitely Amanda and Emily. Amanda is such a wild card she wants Emily's life if not Emily herself. These two women are both powerful and a little crazy in their own different ways. Whether their past bonds them together or tears them apart, I know it won't be boring to watch.
Chandel: Amanda and Emily. Jack is clearly on the rebound, so it's not surprising he's intrigued by the new girl. Amanda creeps me out a bit. She seems super dependent on Emily. She clearly wants to be just like her, and will do what she has to in order to get it. Amanda will certainly make things more interesting. More and more pieces are moving, and Emily is going to have to really be on her game to keep it all under control.
Dan: I will go against the grain and choose Amanda and Jack. Hopefully it will set a fire under Emily to the point where she realizes she needs to be with Jack sooner rather than later.
Are you missing Emily's revenge tactics we were so used to at the start of the season?
Leigh: I would like to see a takedown, but this show is just as compelling as it was before. I'm still loving every minute.
Christine: I do a little, but I think we'd get bored if we saw the same thing week after week.  Revenge is anything but boring so the writers are doing something right.
Chandel: No, because they have to change now that so many people are in the mix. It's only natural that she's running into all these obstacles. I think it's just making things more interesting. I look forward to seeing what happens next.
Dan: I'm with the ladies, but maybe a nice mini-revenge here or there to whet our appetites?
On a scale of 1 to 10, how much sympathy do you have for Victoria?
Leigh: I don't feel bad for Victoria at all. Daniel turning against her was perfect. Just because she made bad decisions doesn't mean she needs to turn into a total bitch. She has no remorse or hope for redemption.
Christine: Maybe a three. Everything she loves is being torn away but I can't say she doesn't deserve it. I'd feel more sympathy for her if she hadn't treated Emily so badly when she was a child. What she did to David was horrible but torturing an innocent, grieving child was worse.
Chandel: Zero. Yes, I realize that's not an option - but you get the idea.
Dan: I'll go with a four because it seems I have a bit more sympathy for her than the rest of you. I'm a sucker for the here and now, and now, I'm a bit sympathetic.