Hello, grander season-long mythology. Excited to meet you.
I have to admit, the start of Person of Interest this week didn't feel too promising. My eyes started to roll as soon as Fusco called Reese about looking into a "Witness" and Reese was already watching him. How convenient. I know the police cases and Reese and Finch number cases are bound to intersect, but when it lines up so easily it can feel a bit contrived. I don't want things to be too obvious. In the long run, though, none of it really turned out to be.
Additionally, a majority of the time was spent discussing different crime syndicates and their enemies. It was a bit confusing trying to keep up with who was fighting whom and which turf belonged to which group. Bulgarians, Russians, La Cosa Nostra? Frankly, I just wanted to know why it even mattered.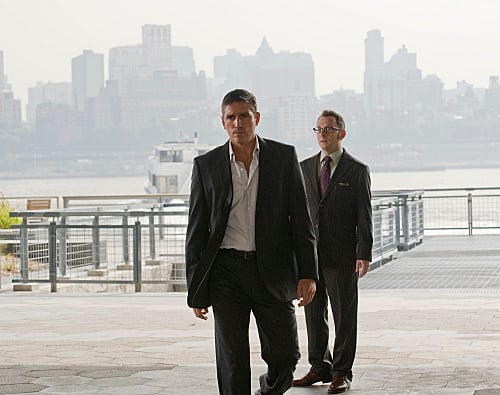 And then Elias popped up again. That elusive mystery man whose name appeared a few times in previous episodes was now at the center of the crime. But how was he connected to everything?
Here's my take: Elias is the illegitimate son of Marlene Elias and Don Marretti, a former leader of the Italian mafia: La Cosa Nostra. Marlene was murdered and Elias took revenge. Not only that, but now he's been ordering hits on the Russian mob and desires to retake Brighton Beach, previously controlled by Marretti before he went to prison. Elias is starting a regime change and an attempt to reunite the five families in order to control New York City.
Sounds like a master plan fit for a major bad guy. Now, I'm hooked.
So, the entire time Reese was protecting Charlie Burton, I simply kept waiting for that calm moment where a bullet would take out the so-called witness to the murder. I wasn't prepared for the twist that connected everything and really stepped up Person of Interest's game.
Charlie Burton was really Elias.
Played fantastically by a Veronica Mars alum, Enrico Colantoni, he was able to capture the nerdy and worried school teacher at one moment and the calculating and clever mafia leader the next. What's great is that he wasn't a cartoon character of a bad guy with some deep scar over his eye or a droning on monologue. There was plenty of depth to the man. He seemed to care about the students that he teaches, so he does have a humane side. Yet, he also harbors a hate for the Russians and carries a strong feeling of revenge that drives him to make his violent decisions. His plans really are just beginning.
The reveal was also significant for Reese himself. It was the first time where he wasn't truly in control of the situation. Not only did he seem shocked and betrayed, but another sense of doubt formed in regard to the Machine and its numbers. What happens when you save a murderer? It certainly put a dent in the idealistic bubble of doing good that had turned Reese's life around. I have a feeling that Reese won't stop until he finds a way to defeat Elias.
Finally, a larger bad guy for Reese to deal with, in addition to all the numbers. But what are those bigger plans that Elias has? Chaos? Control? Can't wait to find out.
One thing Person of Interest has managed to do repeatedly well is close an episode firing on all cylinders. It always draws everything together nicely, offers something a little more and conclude with that perfect snap that has viewers ready for the following Thursday. And, once again, music goes a long way into adding to the emotion and tone of the show and Nina Simone's "Sinnerman" fit perfectly with the ending.
That final walk away of Elias and his crew from the camera a- fter stating, "It's just the beginning. Veni. Vidi. Vici" - was a great line in preparing viewers, and of course, Reese and the rest of New York, for what's to come. I cannot wait.
A few other thoughts:
Did anyone notice the Detective helping out Fusco and Carter is from the GEICO commercials? I just wanted him to ask about saving 15% on car insurance or if woodchucks chuck wood at least once.
The Count of Monte Cristo is the ideal story about betrayal and revenge, fitting for the episode. The film version also happens to star Jim Caviezel. Nice nod to his work.
Reese may be great at beating everyone up, but at least when he borrows drugs, he is courteous enough to say "thank you."
Will we have to wait long for another Elias and Reese match up? I certainly hope not.
Sean McKenna was a TV Fanatic Staff Writer. He retired in May of 2017. Follow him on Twitter.