Parenthood has quite the knack for ironic titles.
"Forced Family Fun" was an oxymoron if ever I heard one. Forcing a family to do anything is dangerous. Trying to force fun is the number-one way to ensure fun will NOT be had. As Kristina tried to force family fun, the rest of the Bravermans suffered through their own misadventures.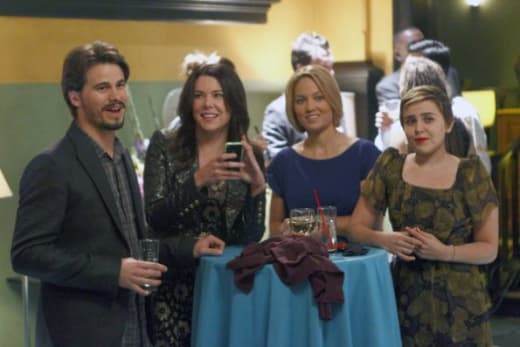 Kristina's post partum depression?
Kristina is fighting so hard to keep her family together even though they are naturally growing apart. The new baby threw everyone into unfamiliar roles, and she just wanted her loved ones back. Tossing her family into the street on mini-golf night was surprising and funny, but they all came together as they always do. That they ended up being the levity of the evening was unexpected, but fitting.
Joel and Julia
I didn't get the warm fuzzies when Julia started freaking over what Zoe was eating. I thought about Zeek and his concern over their lack of written agreement with Zoe. At this point in their relationship, what rights to they really have? I know one thing Julia does have: balls! She is never afraid to speak her mind, no matter the consequences.
Julia is right, she has nobody to tell her these things, and being pregnant is exhausting. She's doing it on her own and a Braverman can't stand by and let someone they care about go it alone. The end result of her micro-management worked in her favor, as Zoe let herself into the lives of the Grahams.
Crosby and Jasmine
Jasmine has continued dating Doctor Joe, the great D.B. Woodside, and it's driving Crosby crazy. The only way Crosby will understand where Jasmine is coming from is if he gets a relationship of his own. Someone with whom he can share his good times with Jabbar. While I once thought Crosby and Jasmine would find their way back to each other, now I understand their connection will be through their son. They need to make that work.
Sarah and Seth
Seth really seems to be examining his life in rehab. Unfortunately, he's dragging Sarah right along with him. Amber's seventh birthday was the first time Sarah asked him to go to rehab. Seth regrets that night because of how different his life could have been. They could have still been a family.
Of course, Sarah raising her children alone for years, must have relived that and many other moments while she struggled to keep them safe and loved. She chose not to speak during his session, but her own pain and regret was oozing from her expression. Whether that regret was for being there or wishing things had been different may take some time to tell.
She and Julia discovered she's a bad girlfriend but an amazing ex-wife. With that revelation, the wine was put aside and the vodka taken out of the freezer. The Seth and Sarah scenes have been very revealing. As bad as things got, they both remember so many good times, and her family is right to worry about what this means for her.
She's fighting her past to try to stay close to Mark. Mark made it clear that she can't continue to drop dates, and no matter how many times she tells him not to worry, if I were Mark, I'd be apprehensive. As Sarah and Seth watched Vertigo, together but apart, it seemed Mark's fate was sealed. It was only a moment for you; you took no notice. Oh Sarah, we noticed.
I've been enjoying these past episodes where the adults are the focus of the storylines. As much as I loved Alex, he's gone now and Haddie is back to just being a kid. Amber is ensconced in her new life and Drew seems more like a regular teenager. Being called Parenthood, it's good to know they remember the importance of parents as people in their own right.
Carissa Pavlica is the managing editor and a staff writer for TV Fanatic. She's a member of the Broadcast Television Journalists Association (BTJA), enjoys mentoring writers, wine, and passionately discussing the nuances of television. Follow her on Twitter and email her here at TV Fanatic.