In transition, in flux, "In-Between."
That's where we find the entire Braverman clan this week, and for some it's better than others. We have great big events and little nuances to discuss, and they are all equally important.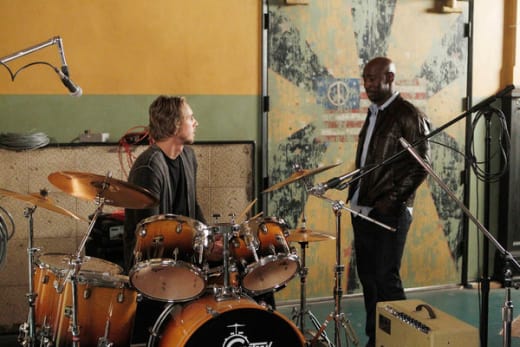 The Luncheonette
The business was taking off and Crosby and Adam threw a grand opening party. Meanwhile, they hired a new receptionist of the ilk that wears backless white shirts and black bras. That happened to be her outfit when Kristina showed up to see Adam, complete with milk on her face and baby spit-up in her hair. Kristina was already feeling underwhelmed, and then overwhelmed with the introduction of hot young Rachel into Adam's life.
The scene between Kristina and Adam during the party, after she started leaking breast milk in her sexy red dress was amazing. Some things are rarely discussed on TV, and leaking breasts, the dissipating afterglow of childbirth as a woman tries to find her sexiness again and just a couple that were touched upon, and in an incredibly natural way.
No, no, no...
It's been building up for some time, and I called it, but it didn't make it any easier for me to witness. Seth got out of rehab, and in a spontaneous moment when Sarah was checking up on him at Amber's apartment, they kissed. It wasn't a kiss that Seth initiated and Sarah pulled from. It was reciprocated.
Poor Mark. His relationship with Sarah has become so strained, and he tries so hard to pretend her assisting Seth through rehab is noble and okay with him. But he knows as much as we do that it isn't okay at all. The kiss proved the only people who weren't seeing the elephant in the room were Sarah and Seth. When Sarah admit to Camille she's picturing them together, Amber overhears from the porch. Her concern for Sarah was heart wrenching.
Crosby finally stands up for himself
Jasmine robbed Crosby of the beginning of Jabbar's life, and by allowing Dr. Joe to be so involved with his life, she's robbing Crosby of even more moments that he should be witnessing. Crosby and Jabbar have been reading the Harry Potter series, which is a really great father/son experience. Then Dr. Joe shows Jabbar the movie that's two books out from their reading. When Crosby found out Jabbar was going to his first football game with the doctor, it was the last straw.
It's a shame that Crosby had to confront Dr. Joe, because Jasmine should have never let it get so far. In a really tough situation, Crosby stepped up to the plate and threw his whole being into fatherhood. The very least she could do is give him the chance to be the good father he wants to be. A very cool ending to the situation was Dr. Joe giving Crosby the football tickets. He's going to be in Jabbar's life, but maybe they'll have a chance to share in those special moments.
More Braverman moments:
Amber confronting Seth about Sarah and her happiness was so difficult for her, and so adult.
Kristina didn't let her discomfort keep her from getting down, did she?
The birthday cards Seth left for Amber and Drew were really cool.
Still not a lot of Drew, even though he has a real girlfriend now. Give the kid some airtime!
Loved Camille and Zeek dancing to Jefferson Airplane. They are the perfect heads of a fantastic family.
I look forward to see where these new developments take our favorite extended family in the coming weeks. One thing is for sure, the Bravermans are never boring!
Carissa Pavlica is the managing editor and a staff writer for TV Fanatic. She's a member of the Broadcast Television Journalists Association (BTJA), enjoys mentoring writers, wine, and passionately discussing the nuances of television. Follow her on Twitter and email her here at TV Fanatic.