I've never trusted puppets. Now I know why. Once Upon a Time delved into the history of crickets and the truth behind puppets this week, as "That Still Small Voice" took some prodding to be heard.
Deputy Emma Stone. The Sheriff made it official. Emma was made deputy of Storybrooke, much to Regina's displeasure.
That was quite an eye argument Regina had with the Sheriff. There was so much said without saying a word. I think the Mayor might be making some budget cuts next time around.
I knew Emma being on the city payroll would shake things up, I just didn't know it would literally send tremors though the town.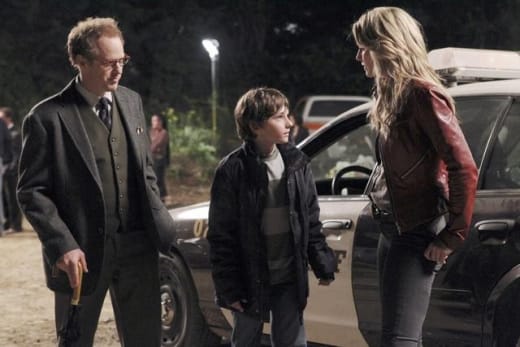 Jiminy's Shady Past. I loved Jiminy's parents. Martin and Myrna reveled in their wicked ways and the two were great fun to watch. So how did such devilish characters produce such a wishy washy son?
Wishy washy might be harsh but Jiminy couldn't bring himself to walk away from his parents. Of course, they didn't ask for much. Just that he stay with them until they died. Leave it to Rumplestiltskin to figure out a way to hurry that inevitability along. 
That poor couple were turned into hideously awful puppets for all eternity. They looked like something out of a creepy horror film and one look at them reminded me why I've never liked puppets. Not one bit.
I did love that Geppetto was the orphaned boy. That was a nice way to bring the story full circle.
In the end, Jiminy wished to be a cricket instead of who he was. Shouldn't there have been an easier way to follow his conscience?
Archie Grows a Set. When Archie finally emerged from that mine, he realized there might be scarier things than the powerful mayor. He even managed to find a little power of this own. It appeared that the former Evil Queen could make someone's life miserable but she didn't actually threaten Archie's life, so did that mean she can't actually kill anyone in Storybrooke? 
Snow White's Heartache. The Evil Queen certainly made sure that curse would torture poor Mary Margaret. She was so close to her one true love, only to have to watch him with his wife. And she's nice too. I agree. Somehow that just made it worse.
When her Prince told her he felt their connection that only made it worse. He's married and recovering from a coma. His wife desperately wants him to remember. Mary Margaret did the only honorable thing. She walked away. Sometimes, honorable sucks.
So hold onto your umbrellas and keep a special eye on those puppets. Once Upon a Time will be back again next week for more fairy tale fun.
C. Orlando is a TV Fanatic Staff Writer. Follow her on Twitter.