Our NCIS review broke down last week's episode of TV's #1 show in great detail.
Now, TV Fanatic staff members Steve Marsi, Matt Richenthal and Eric Hochberger have assembled for a weekly Round Table Q&A discussion of events from "Sins of the Father."
Join in below, as we analyze various aspects of Tony Jr., Tony Sr., and more ...
----------------------------------
Describe this episode in one word.

Steve: Complicated.
Matt: Predictable.
Eric: Different.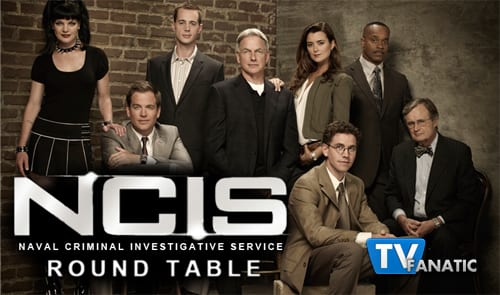 What was your favorite quote or scene?

Steve: Gibbs heating up some milk for his guest. So many of the best scenes seem to take place at his house at odd hours. I love that he always sleeps on the couch, too. In case he has to get up in a hurry?
Matt: Gibbs putting both Junior and Senior in their place when needed, but not overstepping in either case. As Steve said in his review, he handled an extremely difficult situation like the effective leader he is.
Eric: I love watching Tony out of sorts, so his efforts to literally wrestle information out of McGee, bribe Abby with Caf-Pow or talk his way past the poor agent tasked with keeping him away were all classic.
Robert Wagner's guest appearances: Too much of a good thing?

Steve: Wagner and Michael Weatherly, as usual, pulled off their unconventional father-son interplay in a very believable manner. Hopefully their relationship evolves from here and we'll see him again soon, although I'd love for him to make a cameo in an episode that doesn't revolve around him entirely, or require him to be an NCIS suspect.
Matt: Definitely. This is the third time, right? Wagner's great, but how many crimes connecting with NCIS can this guy be connected to? It borders on recycled, no matter how good the acting may be.
Eric: I like Wagner and watching him vulnerable, rather than hiding something and trying to call the shots, for the bulk of this episode was a different twist. Still, I think we all agree that he can only be a suspect and DiNozzo can only be conflicted about how to handle it so many times before the luster begins to wear off a bit.
Will Tony get past his "daddy issues"?

Steve: With a dad like that, it'll be tough! You can't help but feel bad for Junior having that guy raise him ... if you can call it that, then having to deal with his continued shadiness as an adult. In all seriousness, the scene at the end showed he's already come a long way, whether he knows it or not.
Matt: I hope so, if only because episodes like this set him back (see previous answer). I like to see Tony growing as a person, not resenting his father for things that happened decades ago. I know these things stay with us for life, but it's been explored a few times now, and I think he's ready for better things.
Eric: I think he's already past them in that he's acutely aware of Senior's failings, and come to grips with the fact that he can't expect the old man to change, while at the same time still loving him obviously. Even if he's afraid of kids, as we learned the previous week, Tony would be a much better dad someday.
What family member (new or old) would you like to see next?

Steve: I'd like to see McGee's dad, who we learned about this season via Penny. There's clearly a complex dynamic there as well, in keeping with the many father-child relationships on the show.
Matt: I'll go with Gibbs' father after seeing him with Tony's dad this week. Gibbs as the de facto father figure for the team has been a consistent backdrop this season, so further extrapolation of Jackson's relationship with Jethro would cast that in an interesting light. Besides, who doesn't love Mark Harmon and Ralph Waite together.
Eric: Umm, hello. Abby's brother, obviously ... is there any other answer? Failing that, maybe something with Ziva's past, even if it doesn't necessarily involve her father or brother (I know that's not really answering the question, but I feel she's been a bit underutilized this season and could use a big storyline).
Steve Marsi is the Managing Editor of TV Fanatic. Follow him on Google+ or email him here.