Lapa'au: Healing
We returned to the tempo and feel we all fell in love with on Hawaii Five-0 this week, which certainly helped with the "Lapa'au" of the wounds left by previous episodes.
Given how clunky, disjointed, and just bad last week's episode was, I wasn't holding out much hope that the series could right the ship and stay afloat for the rest of this season, much less be considered for a third season.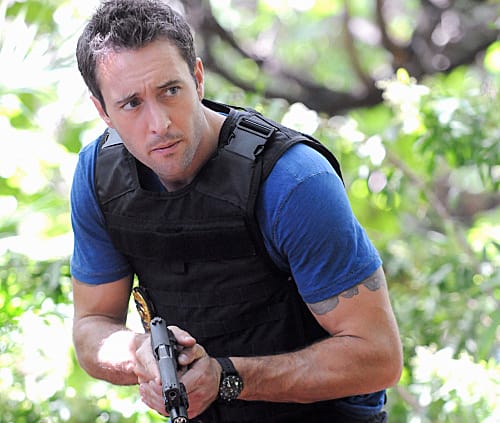 But hope has been restored. This outing clicked on nearly every level. Let's break down the parts that really worked.
Opened with the bromance: Danny and Steve's dialogue while watching Enemy Mine will go down as some of their best exchanges. It's hard to have a bad episode when you start with the boys doing what they do best. 
A guest star who actually starred: Greg Grunberg, as agent Jeff Morrison, enjoyed more screen time that all of the guest stars this season combined. I LOVED IT. I hope we get to see Agent Morrison again, he was a good fit for the show. Mr. Kurtzman, please take a note, this is how we want to see guest stars when you advertise them as a featured in an episode. 
Good balance of team exposure: Everyone got some good screen time: Kono shined in the smoke shop, Chin shined with his knowledge of motorcycles and my new heart-throb Lori even shined working with Morrison. It was good to see everyone getting some face time and contributing. Yes, Lori haters, even Lori! 
Fun with animals: Who didn't immediately love the dog? From seeing Danny's softer side to watching Steve ride in the backseat so the dog could stick his head out the window, it was all fun. The only disappointment for me was that Danny gave the dog to Grace, so we won't see him much in the future. 
Nod to the geeks: For all of us former Heroes fans, Max and Morrison's meeting was great, with Max swearing he knew him from somewhere. Had they worked in Max accidentally calling him Matt, it would have sealed the deal. However, seeing the Warp 9 license plate on the bright yellow Camaro totally made up for it!
The only awkwardness I had during the episode was coming back from commercial into a foot chase scene. Before I got to Danny's line of "what part of don't run did he not understand" the first time, I rewound my DVR to see if I had missed something. Still, I did understand - from a story point of view - that we didn't need to see them confront the drug mule, but we could have benefited from a clearer way to being dropped into the scene after a commercial break. 
In conclusion, it was an entertaining episode and makes me look forward to seeing where the rest of the season takes us. While I make it no secret that I like Lori more and more each week, I have a question for those of you who are in the opposite camp: What would it take for you to accept her on the team?
Jim G. is a TV Fanatic Staff Writer. Follow him on Twitter.