"Ki'ilua:" Deceiver.
From Chin Ho proposing to the guys from Seal Team 9 tagging along to help rescue Steve, this episode of Hawaii Five-0 turned out to be quite a rollercoaster ride, and I mean that in the best way possible.
Okay, Chin Ho fans, who's happy that he's marrying the woman who broke up with him when he was suspected of stealing from the police department? It's something we can all consider: how much are you willing to forgive the person you love most?
It's easy for us as spectators to pass judgment on fictional characters, but I want you to think for a moment: what if the situation was real? Could you forgive the person you truly love for believing the worst about you? It's a tough call. Thankfully, most of us will never need to make.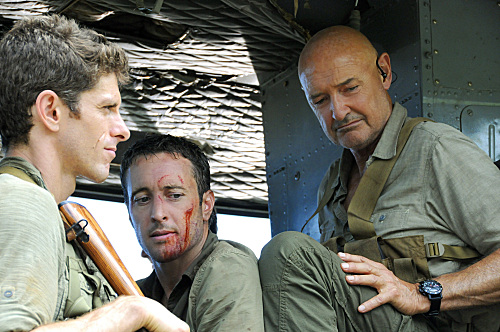 Now we move on the sad part. I hope you and Josh find each other on the other side, Jenna. Rest in peace, knowing that Steve will take your murder out on Wo Fat, a tiny painful bit at a time.

Steve never believed the worse about you. He saw who you really were and was willing to forgive your mistake, even if it was big enough to land him as a prisoner in Korea.

I know some TV Fanatics were hoping that a different female was killed by Wo Fat. Personally, I enjoyed watching Lori shoot the RPG and blow up the bridge. From all the camera angles they showed it from, I'm guessing they got one try at that stunt. It was enough, it was awesome. 

It was good to see Commander Gutches (David Keith) again. I really enjoyed the tie-in to the earlier episode, with Seal Team 9 owing Steve for a skydive catch of one of their team members. Wait! We also had the double whammy of Joe White (Terry O' Quinn) working together with Gutches throughout the episode. I think my man crush may have just expanded a little.

Did anyone else catch Danny's Margarita reference to Jimmy Buffett? Sadly, I couldn't figure out how to get it in the quotes section for this episode, but it was great enough that I had to mention it. Speaking of Buffett, for the second time in as many weeks, we have been treated to some decent screen time with our guest start. How awesome was this iconic singer as the grizzled war vet helicopter pilot? I loved him!

Was anyone else actually glad when Wo Fat got away? He is such a great nemesis, I was dreading him getting killed or captured and the story ending abruptly, so I was relieved to see him trudging through the jungle. 

Oh, don't get me wrong, I'm looking forward to the day Steve makes him pay for his father's and Jenna Kaye's death. But I want Steve to be do it personally not to have it be random gun fire in the jungle.

Finally, I have to mention my on going crush: Lori. The hug she gave Steve clearly shows her loyalties don't lie with the Governor any more, if they ever did. So, come on now. Tell me some new members joined the I Love Lori Club this week. Anyone?

Jim G. is a TV Fanatic Staff Writer. Follow him on Twitter.

Tags: Hawaii Five-0, Reviews