Ike Maka: Identity 
While not as much fun as last week's bromantic opening, we did get launched into the team again on Hawaii Five-0 here, with some one-on-one time as Danny was staying at Steve's.
I'm sure I'm not alone when I say that Danny looks like he would be the worst house guest ever. I can't imagine having someone stay with me who keeps the TV on all night, so loud that I could hear it clearly from my room. Steve is a stronger man than I am. I would have kicked Danny to the curb long before he had been there two weeks. 
I guess "Homeless Danno" is Scott Cann's new thing this season, as he has been in a couple of different hotels and almost rented a haunted apartment. Here's hoping he can find a place to call his own so we can get back to some more original interactions between him and Steve.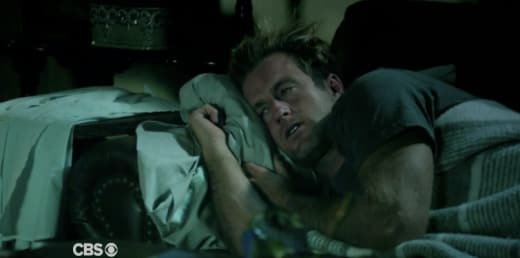 As for the main case... being an unashamed lover of all things Fast and Furious, (who doesn't love Vin Diesel?!?) I was ready to sink my teeth into the seedy underbelly of street racing and restored cars in Hawaii.  
Sadly, what we got was more fizzle than dazzle. Don't get me wrong, the story was entertaining, but other than the one scene in the garage and Lori playing bait, we didn't get much in the way of the cars racing, just car theft. 
Okay, the opening scene with the cops chasing the Camero was pretty awesome, but it looked like they were actually trying to play up the car theft ring angle right from that moment. When the police started popping open shipping containers and found the muscle cars inside my wife actually asked out loud: What, did they watch Gone in 60 Seconds?
This comment was made humorously ironic a little later when the dead guy turned out to be going by the last name of Raines (Nicholas Cage was Memphis Raines in the aforementioned movie, as everyone knows). My only wish would have been for more cars. 
In retrospect, I wonder if there are really that many muscle cars in Hawaii, given that everything has to be shipped over. Anyone from the islands know?  
Cars aside, I have to mention my new favorite sharp-shooter: Kono!
Who knew she was trained to as a sharpshooter? I thought she was going to be on the balcony and she was going to point her gun at the bad guy when he backed out of the door. I did not see a head shot coming! Nicely done, Kono.
There was only one thing that truly bugged me and that was Max and his constant ignoring of Steve and Danny. I won't even get into how stupid it was for him to be mad at these two over them not replying to his personal email. What I will mention is that both Steve and Danny have no problem confronting bad guys with weapons, yet neither could man up and follow Max into the next room and corner him for an answer?
Apparently the Medical Examiner out ranks Five-0, given how they went to the "kiss his butt" resolution method. 
Finally, I leave you with one question from the Lori fan club: "How awesome was Lori as Sandy from Grease at the end?" I don't blame Danny and Steve for scrambling out of the office, I would have been at the front of the line. 
Jim G. is a TV Fanatic Staff Writer. Follow him on Twitter.