"Insanity" took many forms this week.
Whether as a defense for a troubled young man accused of killing three college students, Cassie's internal struggle with her past, Tommy's fervent defense of a mortuary and organic vegetable farmer or Adam's impromptu hiring of Chunhua, it was a pretty busy hour of Harry's Law.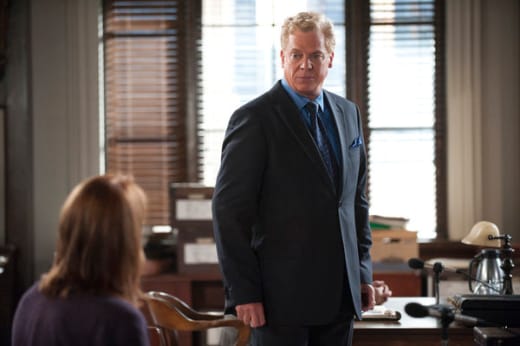 I have to say, I've been checking in and out of Harry's Law so far this season, slightly disgruntled at all the personnel changes and the stark shift from working in the shoe shop downstairs. While the atmosphere of the firm is far more professional, I rather enjoyed the unpredictability of the sidewalk access to the store. Now the only way in or out is via elevator.
But that certainly hasn't stopped interesting cases from coming in.
Let's begin with Tommy's. Had to love, at least in an appreciative sort of way, the awkwardness of the mortuary owner using decomposing corpses as fertilizer for plants. It seemed oddly appropriate given the omnipresent green message NBC Universal has been tirelessly promoting all week. Props are due to the writers who entertained and brought this concept to light.
However, I suddenly have the urge to think twice about consuming vegetables in my college dining halls. Hey, they say all stories begin with a kernel of truth - better safe than sorry.
Then there's Adam, good old lovable Adam. I don't think there is a person in the world who doesn't want to see that kid happy. He's a great guy and he clearly has a soft spot for Chunhua, who is a complete angel. Even Harry can't resist her kind spirit and thankful heart. If I met someone like her on the street, I might be tempted to judge her as fake, but I genuinely like her as a character on this show.
As far as the headliner case, The State of Ohio v. Matthew Jamison Gayles, the tension between Oliver and Cassie was well played. At first, I was put off by it, but when Cassie finally admitted that she had been involved in a similar shooting situation which the defendant had committed, it felt more natural.
Oliver did take it a little far, though. The whole "umm" tantrum was a bit much.
Learning more about Cassie was a highlight of this episode for me. Significant depth was added to her character's back story, which will allow me to appreciate her performance more going forward. I am also severely pleased that her confidence in Oliver did not eventually land the two in bed. I do wonder whether or not this case will make them closer co-workers, if not friends.
That said, it seemed Harry took a bit of a backseat to all the compelling case drama, her appearances highlighted by witty one-liners and even some statements unwilling listeners - like Adam, for instance - might wish to erase from his memory, and everyone else's.
All in all, a solid week for Harry's Law and Fine Shoes. What did you think of this episode? Sound off below!
C. Charles is a TV Fanatic Staff Writer. Follow her on Twitter.