After a couple of exciting episodes to start Covert Affairs' winter run, "A Girl Like You" was a much more dialed back, dialogue-heavy chapter.
I very much still enjoyed the hour, though, thanks in large part to another guest appearance by Oded Fehr as Eyal Lavine. When Covert Affairs is at its best, it combines the sweet understated moments with a good amount of action-packed car chases/fights.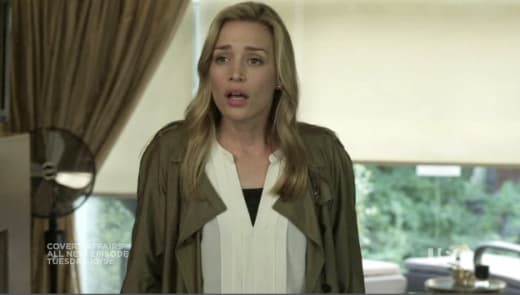 I'm talking about understated moments like Eyal waxing on about letting the river take him on his journey, Jai recovering from his bonehead mistake of crossing Joan, or Auggie's admission that he wants to settle down with Parker.
The latter of those came as somewhat of a surprise to me. As I mentioned in my review of last week's "Uberlin," I don't foresee Auggie having a significant relationship on Covert Affairs. Parker having to leave for the Peace Corps in four months plays right into that theory.
Were you expecting Auggie to go all serious on us with this, though? Taking all the proper forms to Joan so that he could make it official? I wasn't. I'm not hating on it. I'm just wondering if maybe Parker doesn't feel the same way. Maybe there's more to this story that we're not getting.
And while the hard-hitting action was up to par with some of the best Covert Affairs of the past, Eyal gave it his best effort. Between his one-man wrecking crew on the dudes who tried to shoot him up in the alley (killing the asset in progress), and his hotel room beat down of three dudes after escaping from Annie's handcuffs, Eyal was impressing everyone who was watching.
I'm not sure which was more exciting, however, Eyal's fight scenes, or his sexy time with Annie in the hotel. I know there was many a fan hoping to see these two getting close there for a bit, but I was more excited to see Annie use her feminine wiles to get what she wanted.  he fact that her plan ended up putting Eyal in harm's way is beside the point.
While it didn't add up to as much excitement as "The Wake-Up Bomb," and wasn't quite as interesting as "Uberlin," Cover Affairs had just the right mix to keep me intrigued this week. On to the final three episodes of 2011!
What did you all think of "A Girl Like You?" Was it nice to see Oded Fehr back on the screen? And do you think we'll see him back again?
Dan Forcella is a TV Fanatic Staff Writer. Follow him on Twitter.