The "Lonely Hearts Club" sent Jackie into harms way as she hunted down a serial killer taking out pretty, brunette prostitutes.
Jackie's got a plan. Since they've got no leads and she bears a striking resemblance to the victims, Jackie went undercover to lure out the killer. The surprising part was Danny's visceral reaction to stop her because, if the roles were reversed, you knew Danny would have had the same plan.
Even Linda called out her husband for being overprotective and pointed out that it seemed easier for him to watch his little brother go undercover than his female partner. Was it simply a male reaction or a fear of losing his partner? Danny explained that he'd lost more than one partner. How and how many? Why was Danny's luck so bad? I hope they delve back into this at some point because I'm curious.
It seemed odd that the one time Jackie showed up at the Reagan house it was dressed as a prostitute. Loved how Linda chided her husband to keep his eyes up. Those two are such a fun couple.
Jackie's reaction to some of the johns was the highlight of the night. The family values politician who she kindly labeled a schmuck and sent packing was funny. And how about the guy who took one look at her and scowled, "you'll do." Wow, what a charmer. No wonder he's paying for it.
Finally, it was good to see Jackie point out to Danny the difference between having her back and protecting her. Of course, leaving her alone in the hotel room after surveillance had called it a night was neither. You knew the killer was on the way the second he walked out the door. The only thing I didn't see coming was the mother/brother tag team. That was a nice, creepy twist.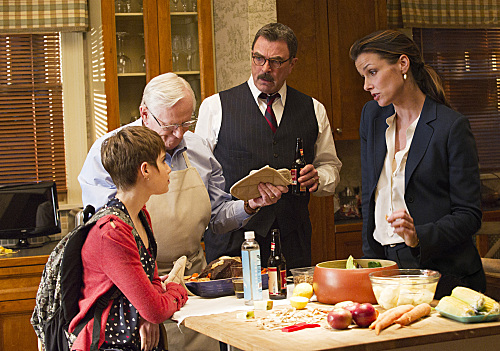 Frank fought the blue flu. Having Frank fight with the union representative over budget cuts might have been a realistic story for a police commissioner but it certainly wasn't the most exciting. I wished we'd gotten more details about exactly what type of outsourcing the mayor was pushing for.

I was happy Henry turned down the job at Ajax. I know he'd have connections after four decades on the job but Henry doing corporate security just sounded tedious. I'd rather see Grandpa sharing advice with the Reagan clan over Sunday dinners.

Erin's new beau? It seems as though they've continued to  throw men in Erin's path this season in the hopes that one of them will stick. Although Jacob was quirky and nice enough, I didn't see him being a match for Erin. Simply not enough chemistry there. Better luck next week.

Overall, it was another solid but not stunning episode of Blue Bloods. I'm always disappointed when the Tom Selleck storyline doesn't hold my interest. Thankfully, Jackie and her sarcasm stepped up and saved the night.

C. Orlando is a TV Fanatic Staff Writer. Follow her on Twitter.

Tags: Blue Bloods, Reviews