The Office took a week off after the fantastic "Garden Party," and followed that up with a lackluster attempt at a Halloween episode.
Indeed, "Spooked" featured a few laughs here and there, mostly from the brilliant Ellie Kemper, but it also had a couple of attempts at meaningful storylines that came nowhere nearing paying off.
Let's start with Kemper's Erin and her former boyfriend Andy Bernard. The former spends the entire half hour attempting to please Andy because she thinks she's doing a poor job and is going to get fired. Granted, she is dishing out hilariously awkward lines like November's sure creepin' up huh? Can't stop that month, but like I said, it didn't payoff.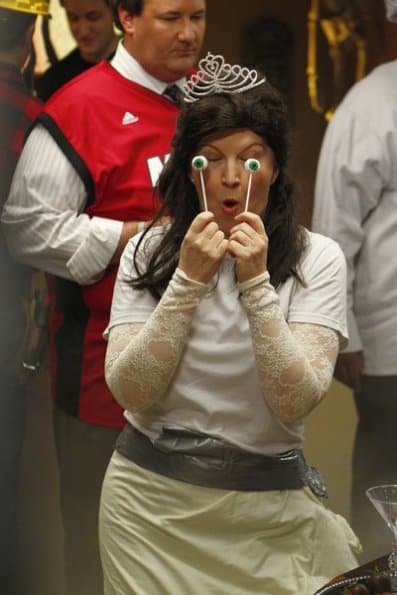 The reveal is that Andy has a girlfriend of 31 dates. That's great, but these two are not Jim and Pam. Stop trying to force them on us.
Then there was Robert California and his adventure through the office, figuring out what everyone's fears were. Again, there were a few funny moments throughout his journey - Kevin being scared when he found out mummies were real was my favorite - but his final ghost story at the end wasn't very funny, and it wasn't nearly as creepy as California has been in the past.
There was also the Jim, Pam, and ghosts storyline that really never ended up even trying to go anywhere. There were some humorous highlights, though.  heck them out below:
Meredith's Kate Middleton dress having duct tape on it.
Erin thinking it's awesome she gets to work with her ex-boyfriend every day.
Ryan thinking Dwight's costume is Whoopi Goldberg.
Jim cracking up mid-Ghostbusters joke.
Oscar's grandmother being in Gabe's movie.
Dwight getting Robert's kid to fire Toby.
Let us know what you thought of "Spooked" in the comments section.  nd don't forget to check out all the best one-liners at our The Office Quotes page. Here are a few of our favorites this week:
Toby: Every Halloween I tell him the same thing; you can't bring weapons into the office, and every year he says the same thing; as soon as I get my weapons back I'm gonna kill you. | permalink
Erin: Pam, how would you rate me as a receptionist on a scale of 1 to 3?
Pam: Ummm, two?
Erin: That's like the second to last thing I wanted to hear. | permalink
Bert: What do you like? Tornados?
Dwight: Try influenza. | permalink
Phyllis: Is she Asian?
Erin: I don't know. She's from somewhere, I bet. | permalink
Dan Forcella is a TV Fanatic Staff Writer. Follow him on Twitter.