The Office Review: How Darryl Got His Groove Back

Dan Forcella at .
In "Lotto" we were treated to an interesting buddy story featuring Darryl Philbin going from down in the dumps about not winning the lottery to finally getting his groove back, and Andy Bernard continuing to grow as a leader as he helped Darryl crawl out from rock bottom.
It all culminated in a tremendously inspiring speech from Andy to Darryl, who finally figured out that his future was "going to be determined by two big black balls."  His words, not mine.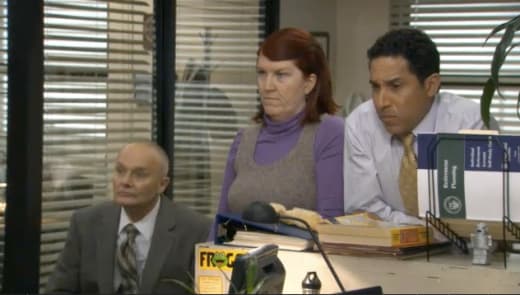 A perfectly interesting story of character development on The Office, but the problem with this screen-stealing story was that it really wasn't all that funny.  The quote above from Darryl was really the only thing going for it.
Some may enjoy themselves some Darryl Philbin, but I've never cared for regular Darryl from a comedic standpoint, so a deeply depressed Darryl was just the worst.
Luckily for "Lotto," plenty of others had their fair share of hilarious moments.
Oscar was all over the place with highlights including his hatred of snowboarders, their love of weed, and this particular snowboarder leaving his dog in the car.  Add in his extensive knowledge of the most muscular guys in Scranton, and that is a fine episode for Mr. Nunez.
While the secondary story didn't work as well as it could have, it did make for some of the funniest moments of the episode.  For starters, Jim tricking Dwight into volunteering by claiming he was the strongest in the office was classic Jim/Dwight dynamic that will never get old.
Then between Dwight ramming the forklift into the wall, Kevin's ridiculous idea to roll the boxes on grease, Erin getting really angry at Kevin for the idea, and then Erin taking a stern attitude with Jim about the fact that he admitted it was a good idea, and it ended up being a pretty hilarious time in the warehouse.
A few other highlights
Kevin honking three times and then seemingly dying in his car during the cold open.
Kelly Kapoor's approach to working after winning the lottery: continue to work, but only for $1 a day, but then she'd only come in at noon.  Hey! She's only getting paid $1 a day!
Stanley being astonished that some dude is eating his lunch.
Dwight and Jim's conversation about Message in a Bottle, The Postman, and Kevin Costner.  I want to hear the rest of that convo.
Jim not wanting to admit to Andy and Darryl all of the antics he was up to with Dwight, Kevin, and Erin.  Senor Loadenstein!
Check out some of our favorite quotes from "Lotto" below, and then head to our The Office quotes page for all the best one-liners.
Kevin: I'm gonna get in my car. When I start dying I will honk the horn three times. That means save the dog. | permalink
Jim: I mean I don't even know what I'd do with all that money.
Dwight: I know what you'd do with all that money. "Hey Pam, let's buy expensive bathrobes and hug." | permalink
Pam: I think we should get a townhouse in SoHo.
Ryan: SoHo's mostly lofts but okay. | permalink
Andy: You do have a fantastic basement.
Darryl: I did. I did have a fantastic basement. Now it smells like tacos. | permalink
Dan Forcella is a TV Fanatic Staff Writer. Follow him on Twitter.