Private Practice Exclusive: Paul Adelstein on Cooper's Reaction to Paternity Shocker
Matt Richenthal at .
Simply put, viewers were treated to a Cooper, duper surprise at the conclusion of this week's Private Practice:
Former My So-Called Life star AJ Langer showed up as Erica, an ex-girlfriend of Paul Adelstein's Cooper... and the mother of his alleged son, Mason!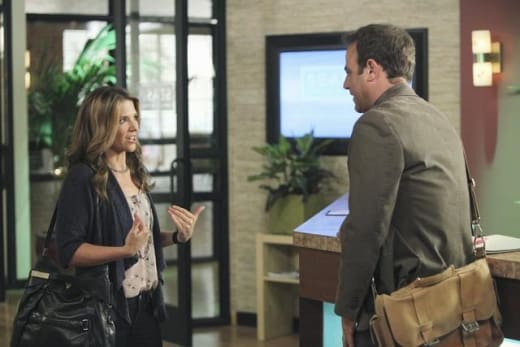 "I was really excited about it," Adelstein told me of his own reaction to reading this storyline for the first time. "It was not where I expected the season to be going. But it's a great, juicy bit of writing for Charlotte and Cooper."
That's for sure. The actor says Erica and Mason's presence "pushes a lot of buttons" for his character and Charlotte, starting with one question, as cynical as it may be: Is Mason actually his son?
"Everyone, from Charlotte to his friends, thinks he's crazy for not getting a paternity test," Adelstein says of what's on tap. "But he avoids it. Call it a willing naivete, but Cooper has an instant connection with this kid and he just wants it to be so."
Of course, as Adelstein also admits, "it's not just a relationship with an eight-year old boy." There's a former lover in the picture now, along with Cooper's wife.
"It's complicated," the actor laughs. "I wanna say it's a triangulation, but there are more people involved. Call it a 'quadrangulation.' I may have just made up a word, but it fits."
To get more of an idea of where these relationships are headed, check out the official promo for next week's Private Practice:
Matt Richenthal is the Editor in Chief of TV Fanatic. Follow him on Twitter and on Google+.