It's too bad "Born & Raised" didn't go all out and call tonight's episode "Birther.
But it really doesn't matter because Leslie paid another visit to Joan Callamezzo where she fell victim to her form of "Gotcha" journalism. It's disappointing that the liberal media didn't have some gotcha dancers and stickers like Joan for the 2008 Presidential race interviews; that would have made things much more entertaining.
There is one thing I wondered about during all of this, though: who submitted the anonymous tip?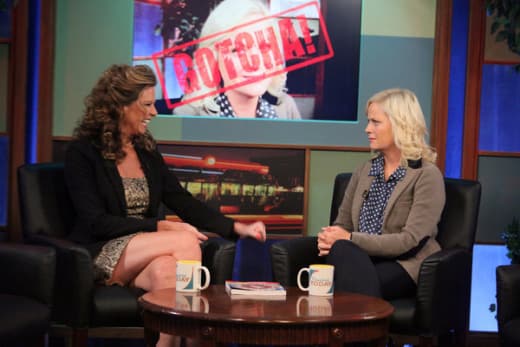 Is there a political rival in Leslie's future? I hope so, it would certainly make things fun to watch Leslie debate with someone in a style only
Parks and Recreation
could do. In fact, someone give Tina Fey a page so I can reminisce about Weekend Update.
Ben was once again saddled with Tom, but thankfully Jean-Ralphio was nowhere to be seen, which meant the annoyance level was kept to a minimum. Watching Tom flirt with Joan again just makes me hope Entertainment 720 is done with sooner rather than later because Parks truly works best when everyone is actually in the department.
Plus, Joan and Tom are made for each other. Only Tom would love her narcissistic, gaudily decorated master bedroom while Ben is left wondering what kind of crazy, screwed up land he delivered Joan to. I might also be in love with Ben's sense of humor.
As for Anne trying to get some small talk out of Ron and April, that was a joke I wasn't feeling right away. It felt forced for almost every scene. But I wonder if Parks pulled a long con joke on me like Nicolas Cage in Matchstick Men, merely setting all of it up for Ron to be infallible again. Just so he could call Ann, Jenny. Okay, and I'm a total sucker for the word chummy.
The end might have been the dirtiest, funniest, and most heart-warming mash up I have ever witnessed on television. Who knew when Nipple Hill is slippery, especially when wet, it would be such a great metaphor for not worrying about where you were born, but where you were raised and where you've built your life?
Overall, "Born and Raised" was much improved from last week. The quicker the dead weight that is Entertainment 720 is cut out the better off this season will be. Be sure to share and vote on some of your favorite quotes, as well!
Other thoughts:
I'd hate to know how much money Tom spends on cologne every month.
Your charm didn't work on the clerk because your hair is awful, Chris.
Secret Agent Andy needs a spin off or, at the very least, a webseries.
I'm off to Amazon to buy Leslie's book... and The Time Traveler's Optometrist.