It was go time for Crosby and Adam this week as they started collecting their own"Tales From the Luncheonette."
Despite Crosby's hesitation, Adam promised to have The Luncheonette ready when Cee Lo Green wanted to record there. A slight snafu? Cee Lo wanted to record in the room where Janis Joplin recorded, even though it wasn't prepared.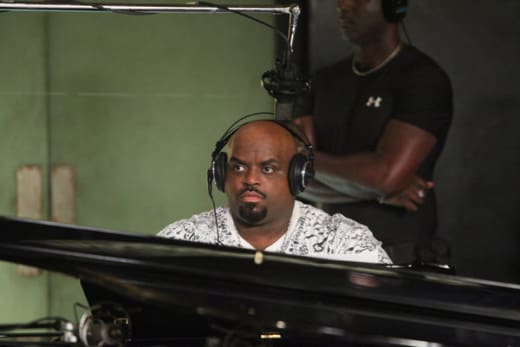 Yes, it was a rough start, but Cee Lo soon realized he was channeling Joplin instead of his own desires, returning to the studio to record a chillingly lovely version of "Piece of My Heart." Seeing Adam and Crosby successful and dealing with their issues together as partners was worth all their effort. Elsewhere...
Is Sarah codependent?
The way Seth kissed her hands as he thanked her, just moments before asking to take the kids to breakfast, covered in blood, totally oblivious to the reality of his situation, spelled out disaster for Sarah's heart.
I was glad to see Mark finally get a bit rattled at the news Sarah slept next to Seth. He was riding pretty close to the edge of perfection, and that would have felt false, so to see him showing some concern proved to me how into Sara he really was. I don't know why she thought telling him Seth was going to rehab would lighten their evening.
I'm not sure what will happen with Sarah, but it's like she's grasping at straws and pushing away a good relationship because it's easier for her to be in a bad one. Codependency comes to mind. I guess we just have to wait and see. However, holding hands with Seth as they told Amber and Drew about rehab didn't give me peace of mind.
Taking pressure off Sarah
Zeek and Camille were very worried about the way they are adopting the baby. It made both Julia and Joel rethink their decision about Zoe's baby. After everything, it's sad that the cynical side would ruin a moment of joy about the process, but Zeek and Camille made valid points.
Stories of soured adoptions, leaving the child and adoptive parents in tremendous pain, abound in the news. Would any good parents be able to look the other way and not worry about that possibility? It was the same as their reaction to Sarah wanting to help Seth. But at least the hot seat was shared this week. Joel and Julia offered money for Sarah to help Seth into rehab. Solidarity in siblings!
Drew and Amy sitting in a tree...
The show sure is taking it slow, but Drew is still getting a story. He was hanging with Amy and rubbing her shoulder and kind of went girl crazy. Then he visited Amber to ask her advice on kissing. It was adorable. She's really coming through for her family after moving out. The best news was that her advice helped Drew get his groove on. Kissing commenced!
And baby makes five
Kristina was on absolute overload with Nora. Adam was struggling to launch The Luncheonette, and she was trying to pretend she could do it all. That meant putting the rest of her family on hold, and it was a tough fight for her.
Happy Haddie struck again, getting angry that Kristina fell asleep (literally) on her college essay. Really, Haddie? You selfish little bleepity bleep? I know some of you harbor feelings of love for that girl, but it will take monsoon of merit for her to get back in my good graces. Not even telling her mom how much she missed and loved her.
So the Bravermans soldier on, proving once again that there is drama, apprehension and love in all of our lives, no matter how dull they may seem at times. This family? They're us.
Carissa Pavlica is the managing editor and a staff writer for TV Fanatic. She's a member of the Broadcast Television Journalists Association (BTJA), enjoys mentoring writers, wine, and passionately discussing the nuances of television. Follow her on Twitter and email her here at TV Fanatic.