Pan Am was all about the crew realizing the theoretical beauty of Germany this week, along with the fact that communism was nothing when faced with the reality of a country split in two.
I wasn't sure what to expect from "Ich Bin Ein Berliner," especially because the previews showed a lot of Maggie and her excitement to meet the president. She even went so far as to make friends with Michael from the Village Voice to score a press pass. Just about everyone wanted to hear Kennedy's speech. There was electricity in the air for all of the crew.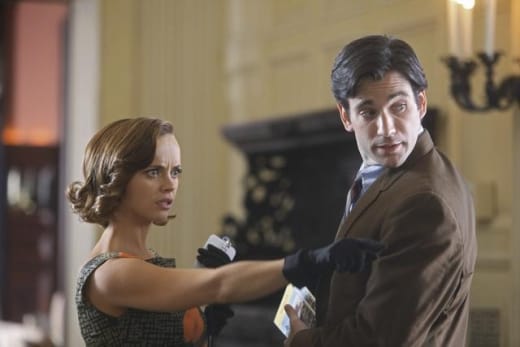 But the real meat of the hour was examining the culture of Germany after World War II.
As soon as Berlin was mentioned, it was obvious that something was eating at Colette. It turns out that she was three years old when the Nazis occupied France. I could feel her fear as she was jostled toward the top of a building, the sounds of German voices slamming into her head as everyone vied for a good position to hear the speech. What is fun and excitement for one person can be a personal Hell for another.
Kate's contact from East Berlin was compromised, and when she tried to work magic with the American's on her behalf, Kate discovered just how deep and dirty her position as a semi-spy really was. Colette picked up on the contact's East German heritage and it was difficult for her even ask how her family survived the war without being flooded with memories of her own.
Her pain was so apparent that I couldn't help but find a place for her in my heart. When she stood in front of the crowd at the embassy and sang the Deutschland song, it actually brought tears to my eyes. At the age of three, she was dropped off at a neighbors, never to see her parents again. For her, there was no magic in her trip to Germany, or seeing Kennedy make a speech on their behalf. She wanted them to feel shame at what happened to so many families like hers. Colette was the last crew member with whom I had identified, but I finally found a reason to care for her character.
In the lighthearted portion of the program, we learned that Maggie logged more hours than any other volunteer during Kennedy's campaign, and yet a bathroom break squashed her one opportunity to meet him and shake his hand. She just wanted to thank him for changing her life. In the end, she managed to make it to the tarmac to deliver to Kennedy his favorite Cuban cigars. From the stairs of Air Force One, he waved to her a thank you. Satisfied, she welled up.
As the old Rolling Stones song says, you can't always get what you want, but if you try sometimes you might find, you get what you need. That certainly applied here for Maggie, Laura and even Colette.
Carissa Pavlica is the managing editor and a staff writer for TV Fanatic. She's a member of the Broadcast Television Journalists Association (BTJA), enjoys mentoring writers, wine, and passionately discussing the nuances of television. Follow her on Twitter and email her here at TV Fanatic.