NCIS Round Table: "The Penelope Papers"
Steve Marsi at .
Our official NCIS review broke down "The Penelope Papers" in great detail. Now, TV Fanatic staff members Steve Marsi, Matt Richenthal and Eric Hochberger gather for a Round Table discussion of the episode.
Join in below, as we discuss various aspects of the NCIS team's latest adventures ...
~~~~~~~~~~~~~~~~~~~~~~~~~~~
What was your general take on this week's episode?

Steve: I loved it. The writers are really playing up these top secret government agency conspiracies of late, but it usually makes for a compelling mystery and this was no exception. I thought Lily Tomlin was outstanding and loved seeing Gibbs as father figure to Tony and Tim in back to back weeks.
Matt: Solid. In many ways as strong as vintage episodes from seasons past.
Eric: A good episode overall and one of the best McGee episodes in years.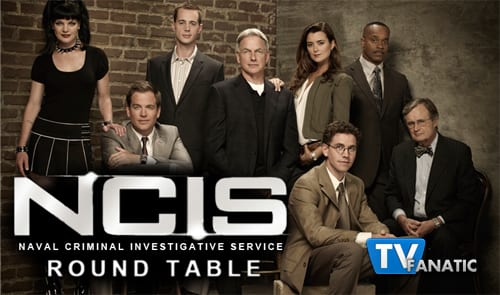 Favorite quote or scene from the episode?

Steve: Palmer never ceases to amuse with his ill-timed rambling, but I loved his conversation with Ducky (and later Gibbs) in the morgue. Sometimes, the best guy talk happens in the unlikeliest of places.
Matt: The whole thing was full of memorable moments, but I liked the continuity of the conclusion. Lily Tomlin would have carried the episode regardless, but Penelope convincing McGee to reach out to his estranged father, who he had talked about at length earlier, was a perfect way to fade to black. I also liked learning about her past. The mother of McGee's straight-arrow dad was a hippie activist? Who knew!
Eric: Oh geez. Penny winking at Tony for humor. Tim's interrogation of his grandma for drama. His realizations about his biological father and NCIS father figure, respectively, for pure emotion at the end.
Discuss the evolution of McGee.

Steve: Similar to what we saw with Tony, it feels like Gibbs is letting his team take the reins lately. He's still the rock that they need, but he gave McGee the leeway to really come into his own this week.
Matt: He's come a long way and Sean Murray did a terrific job of conveying the complex emotions of his character. Physically, though, he's looking a little thin lately. Sorry, I had to mention it.
Eric: McGee takes things a bit personally and gets flustered easily, but it's how you respond to these situations that makes one a better agent. I think he passed with flying colors in the end.
Will Ducky continue date Penny?

Steve: Who didn't smile ear-to-ear when he showed up to escort her dinner, especially after Dr. Mallard had just reflected on not having been in love in so long? Great moment.
Matt: It'd be great if they could pull that off. Call Lily's agent now and set up a return, guys!
Eric: They're cute together, but I hear he may be getting an Angel for a girlfriend instead.
Which character would you like to see an episode focus on next?

Steve: The odds of all three of us answering Abby are on par with Tony quoting a movie next week. I'm certainly pulling for Miss Scuito, and from the looks of next week's preview, I may be in luck.
Matt: I'm going with Abby, but wanted to make a somewhat related point about Ziva. Is it just me or has she seemed a bit distant from the rest of the team in the first three weeks this fall? Not a complaint, just something I've noticed and wondered if others felt the same. Think they're setting up a big storyline for her that will explain this?
Eric: Abby!!
Steve Marsi is the Managing Editor of TV Fanatic. Follow him on Google+ or email him here.