Our official NCIS review broke down Tuesday's terrific episode in great detail.
Now, TV Fanatic staff members Steve Marsi, Matt Richenthal and Eric Hochberger gather for our weekly Round Table Q&A discussion. Join in below, as we analyze various aspects of the team's adventures ...
----------------------------------
Best episode of the season so far?

Steve: They've all been good, but "Enemy on the Hill" was hard to top. Tony was at his best - both as an investigator and as comic relief - while Gibbs was the father figure Abby needed. Interesting case too.
Matt: After the season premiere, each of the next three weeks have featured one of the team members in a pretty heavy storyline. Gibbs, meanwhile, has increasingly been letting them take the lead. The overall direction of the season feels different in that sense, but in way that's been organic and enjoyable.
Eric: Pauley Perrette stole the episode and makes this a definitive yes from me.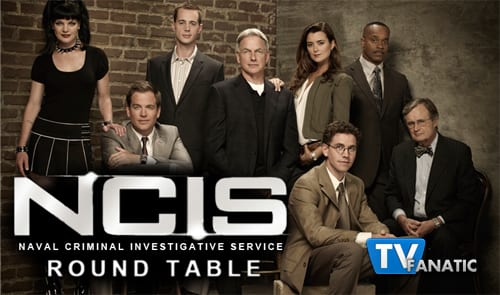 What was your favorite quote from the episode?

Steve: Gibbs telling Abby there's more to family than DNA. Given the millions of people out there who were adopted by loving parents, I'm sure this melted more than a few hearts. For a man of few words, Gibbs always seems to pick the right ones when his own NCIS "family" needs them.
Matt: So many good options. For me it's a time between Tony and Tim's phone duel to reach Gibbs fastest, Gibbs' half-condescending rapport with Sportelli (I love when he goes head-to-head with other law enforcement) and the comments to Ziva after she blew her assignment.
Eric: DiNozzo calling the landlady a turkey vulture. I had never heard that one before.
What was your favorite scene with Abby, and what will she do next?

Steve: One thing I liked was that Abby knocked and Gibbs mentioned it. That spoke volumes about her mental state at the moment, and how discombobulated the whole ordeal made her. It's the little details like that - ones that make little difference to the basic plot but show a real respect for the characters' continuity over eight-plus seasons - that make the show so enjoyable to me. I can only hope we haven't seen the last of this storyline.
Matt: I loved the reflection of her brother's face enmeshed with hers. Very cool visual, compounded by the fact that Daniel Louis Rivas could pass for a Pauley Perrette sibling if you didn't know better (I love that they dated and she recommended him for the part, by the way). This has been well received by so many people, I find it hard to believe we won't see these two meet again, with Abby being more forthcoming next time.
Eric: The end scene, hands down. It definitely got a little dusty in my house. My only question is whether Gibbs knows more about Abby's past than he let on. As Tony said, Gibbs knows all ...
Where was Palmer this week?

Steve: Probably at a cake tasting with Breena and/or irritating their wedding planner with his rambling.
Matt: I don't know, but my man Jimmy was certainly missed. It's funny how you take for granted his usual scenes with Gibbs and Ducky in the morgue, but there's definitely a void when they're gone. On a related note, I was glad to see Ziva play a bigger role in the case this week. It felt like she was on the sidelines for a while.
Eric: What I want to know is where Brian Dietzen is every week in the opening credits!
Next week's episode synopsis says Tony and McGee will try to find the ideal woman for Gibbs. Is that even possible, and who do you think it is?

Steve: I've always enjoyed recurring Coast Guard redhead Diane Neal as Abby Borin, who just happens to be making an appearance in "Safe Harbor." Makes you think!
Matt: After losing the love of his life, it's easy to understand how Gibbs was never the same. Tony and McGee have a difficult task ahead of them ... one I can't wait to watch them attempt, don't get me wrong.
Eric: If I were a single woman I'd simply answer, "me."
Steve Marsi is the Managing Editor of TV Fanatic. Follow him on Google+ or email him here.