They say it ain't over 'til the fat lady sings. Well, that broad has belted her last chorus as far as Florence is concerned. Jersey, you can have your poster kids back now. If you still want them.
Kidding! I actually liked season four's Italian invasion, I thought it was highly entertaining. Unlike the finale, which was just... eh, so so. It wasn't bad, per say, it just didn't bring the antics that the rest of the season did. There were shots and spills taken, but nothing particularly scandalous. Also, this episode should probably have been called "Mike's Repeated Attempts To Make People Notice Him," instead of "Ciao Italia."
Too bad for you, Sitch, while everyone seemed sad to say goodbye to Italy, no one's getting teary eyed over saying farewell to you.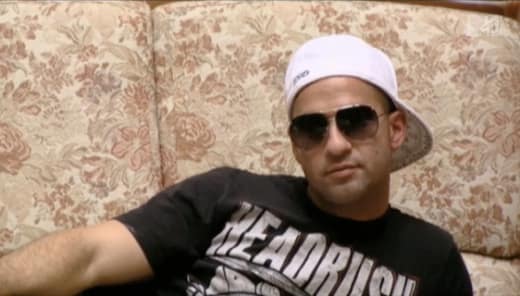 Is it me or did Mike just become more and more of a "weirdo" (to use Snooki-speak) as this season went on? Karate kicks to no one in particular, talking to himself, sitting alone a la scorned third grader - it all smacks of attention seeking. But still, what a strange way to try and get it. Obviously we're going to be subjected to more of him in season five - he'd never actually leave the spotlight - but part of me couldn't help but hope the producers left his ass in Europe. Permanently.
JWOWW had almost no part in this week's episode, which made me sad. Apart from her donating a shredded boob shirt to the pizzeria, the finale was noticeably Jenni deficient. And speaking of the pizzeria's clothing drop...
... I'd like to echo Vinnie's sentiment that having what we can only assume is a Hepatitis-C tainted pair of Deena's underwear (fine, that was mean, maybe just Chlamydia-tainted underwear) dangling above your head as you eat isn't my idea of appetizing restaurant ambiance. I love Deena as much as the rest of them, but she could have kept her drawers and left behind a bra like Snooki did. Especially after talking about having sweaty nether regions in the same episode. Eww. Seriously: EWW.
Also, we finally got to the bottom of the "Why doesn't Sammi smile more?" mystery, when she emerged from the smoosh room with Ronnie after just five minutes. Ron Ron, I know sometimes you've just got to get it in, but have a little pride man - hold out for longer! I suggest that, upon the cast vacating that apartment, the former smoosh palace is cleaned by men in HazMat suits. Who then get examined for infectious diseases. Too drastic?
Snooki and Deena couldn't hide their disgust for Mike, as they both openly rolled their eyes at his apology this week. Totally warranted, if you ask me, nothing he says or does seems genuine anyway. Then they ridiculed a drunk girl at a club, got lost on the way home and created Ferngully on their kitchen table. Sounds about right. Did anyone else find it ironic that they were horrified by seeing some random girl spread eagle at the bar, but have no objection to flashing their own kookas all over Italy? Yeah, me neither.
Finally, we have the educational portion of the finale: the walking tour. How they managed to live in Florence all that time and yet Vinnie still asks directions to the Duomo is beyond me. If you've never been there, it's the enormous, imposing, exceptionally famous structure right in the middle of the city. Kind of hard to miss, or at least to be able to walk in the general direction of - yikes.
Snooki learned that "the babies with wings" were "real." Deena gave her version of art appreciation when she confirmed after looking at a statue of David that she'd hit that, and everyone else just snapped some photos. See? Educational.
I know the housemates were itching to get back to Seaside so that they could go tanning (which, if you watched the reunion afterward, they've more than caught up on), but I enjoyed the change of scenery. Speaking of the reunion for a minute, what was up with JWOWW's face? Lip injections? Something didn't look right. But I digress... It'll be nice to see them fist pumping in a familiar setting again when Jersey Shore resumes. I'll miss their guido drama in the meantime, but I'll leave you with Pauly's parting pizzeria words:
"I'm on break!"
Arrivederci, Shore lovers. See you on season five.