It's Always Sunny in Philadelphia Review: A Lame Game
Arlene G. at .
Experts at playing mind games with each other, the Gang truly got down to playing games on this week's "Chardee Macdennis," which was one of the weakest episodes so far this season.
There just wasn't much positive to say about the group and its rainy day solution to boredom.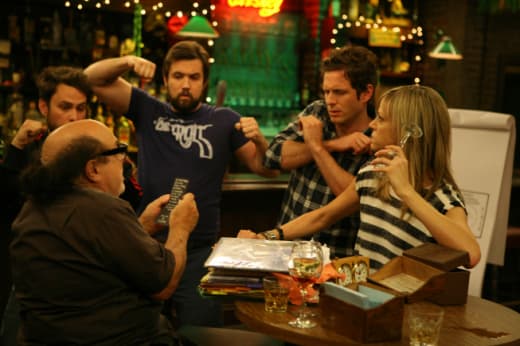 A mash-up of classic games like Monopoly, Trivial Pursuit, Pictionary and Hungry Hungry Hippo (thanks, Charlie!), it was hard to keep track of what was what. It also didn't help that the ludicrous amount of rules kept in a dilapidated binder were changed at the whim of the team in control.
Consisting of levels of nonsense such as Trivia, Mind & Artistry and Physical Challenge, Pain & Endurance, the main objective was basically to get blasted drunk. And that they did. Dee and Dennis (aka The Golden Geese) intimidated Mac, Charlie and Frank with their supposed genius when, in reality, they were as stupid as the other team.
While I did enjoy Dennis' strained look of anguish while Mac, Charlie and Frank tried to peg his hand in that bizarre game of hand dart, and laughed at Frank locked up in the dog kennel, there seemed to be something missing.
Dee and Dennis sticking their tongues out at Mac, Charlie and Frank and whooping it up like banshees fell flat. As did the hoity-toity wine and cheese midway breaks. Although I must admit Dee and Dennis' Ken and Barbie game pieces were pretty funny in comparison to Mac and Charlie's burnt-up husks of discombobulated rubber.  And can Mac get any fatter?
When the dreaded never-drawn-before black card was actually drawn, all it turned out to be was "flip a coin." I was just as disappointed as the Gang. And would have smashed the game pieces in exactly the same way.
I could only imagine what playing Twister with these people would have been like. Still, keep the games going with some Sunny quotes. There's always a hoot.