I had assumed Grimm's pilot would be a little harder to follow than this.
Don't get me wrong, I wasn't expecting a Fringe-esque universe with branching storylines, utter confusion and more alt-words than you can shake a stick at. I was, however, expecting Grimm to delve more into the mythology that's taking shape, in particular with Nick's family. But the premiere did offer a fun, focused, and well-paced romp through a fairy tale, quickly streamlining and integrating the story into an easy to follow procedural case.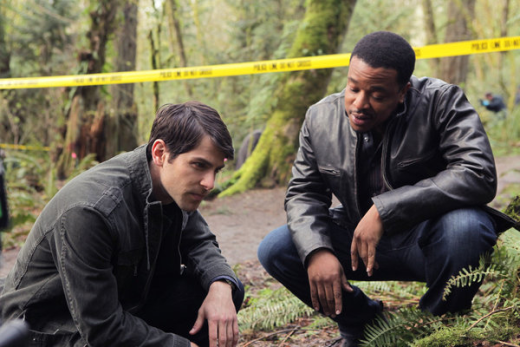 The characters are well drawn and fun, tool. Nick is believable as a leading man and shares chemistry with the entire cast, especially Eddie and Hank. That does lead me to my one biggest complaint about the episode: the ease at which the characters take a "just-go-with-it" attitude.
Of course, in a show like this, some things just have to be accepted, but Hank doesn't question Nick more than once with all of the random suspects and locations he parades by. Nick doesn't wonder, nor does he barely freak out, at seeing these creatures. Seriously, we all know you're a cop, but you can be scared of terrifying looking things, Nick. The TV Fanatic critic Nick certainly cringed a few times.
Nick even drops his suspicions about Eddie almost instantly after he cracks a few jokes. Your aunt just told you you're supposed to slay these things! Getting a beer with the enemy is probably the last thing she wants.
For all of those quibbles the ending did leave me wondering and wanting to know more. I'm glad to see Aunt Marie will be sticking around for more than one episode as Kate Burton is a fun actress to watch and I hope with that comes more story about Nick's home life.
While Grimm is certainly well placed on Friday nights, it's hard not to wonder if the show is still too niche for NBC's flavor of broadcast (however minimal its footprint might be at this point). While Supernatural's ratings are beginning to wane, only time will tell if those potentially fatigued viewers will migrate over to Grimm or if Chuck's audience will stick around.
All speculation aside, Grimm offers a fun and darker take on fairy tales compared to its closest competitor, ABC's Once Upon A Time, which might end up working for them.
Other thoughts:
I will never be able to listen to Sweet Dreams the same way after listening to Red Riding Hood get torn to shreds. I will have it on repeat for far too long.
For as dark as the show is, there's still a sense of whimsy and lightness with the bright colors and environments.
Nick McHatton is a TV Fanatic Staff Writer. Follow him on Twitter.

Tags: Grimm, Reviews
Want more Grimm?
Sign up for our daily newsletter and receive the latest tv news delivered to your inbox for free!
More From TV Fanatic

This week on The Last Ship, Danny gets sick and the crew begins to panic. Is it the virus? Meanwhile, Rachel's vaccine trials continue to fail.

Who was able to successfully problem solve on The Rachael Ray Show this week? Find out now in our review of Food Network Star.

The Masons are reunited on Falling Skies Season 4 Episode 6. Will it be a happy or contentious reunion?

What took place on The Real Housewives of New Jersey Review this week? Read our rundown to find out!
---