Hmmm... do you think season six of Dexter has a specific theme in mind? Religion perhaps?
Following a season premiere that reset the life of our favorite serial killer, and asked him to consider his belief system, "Once Upon a Time" focused even further on the concepts of faith and God and how these can tie into a man's actions.
It's an interesting, tricky storyline to navigate and it's understandable that any new father - let alone one with a personal tale such as Dexter's - would be forced to wonder what he'll pass down to his son. I'd just prefer a more subtle approach to such a grand narrative as religion.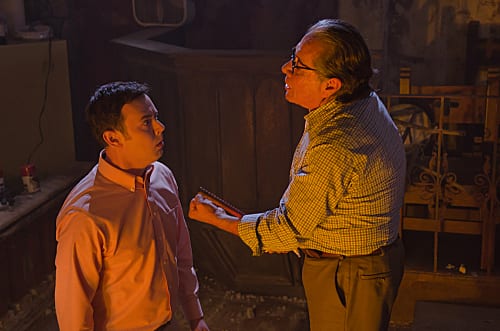 Through two episodes, we've witnessed a shot of Jesus on a cross; listened as a nun asked Dexter what he believed in; and been introduced to Travis and Professor Gellar, along with Mos Def's Brother Sam, characters who are all very clearly shaped by their faith in a higher power.
That's fine and all, but it's also a great deal of telling and an absence of showing. I'd like more than just hearing others talk about God over and over, while Dexter sits back and wonders how his Dark Passenger fits into everything.
Maybe it doesn't. Maybe Dexter is an atheist or an agnostic. Would that be so bad for Harrison? As long as his father gives him a bubble bath every night and reads him a story, the kid will likely turn out okay.
The flipside of the season so far is that at least Dexter is no longer worrying about his own role in the universe. He's embraced who he truly is and has stopped caring about what others consider to be "normal." He clearly doesn't fit that description and it grew tiresome season after season for Dexter to think he ever could. I like this version of Dexter Morgan a lot better. Just be true to yourself, Dex. That's as important a lesson as any to teach your child.
Just leave out the part about collecting blood samples from each of your victims.
Elsewhere, the show has often struggled with its supporting characters, with the exception of Deb. I care a little bit about her and her wayward love life, though I wasn't a fan of how she handled Quinn's proposal here. Why not be honest and say she was just promoted to Lieutenant and there's no way she can take on both that role and the role of a fiancee/wife simultaneously? It would have at least bought her some time to truly ponder Quinn's desire for more.
I wish I could say I felt sorry for Batista for getting passed over, or that I'm invested in his interactions with Maria... but I don't and I'm not. Nothing about either of these people ever really clicked with me.
I watch Dexter solely for Dexter and I also like my Dexter as part of a cat-and-mouse game. I like it when he hunts and when he's on the run and when he's doing all he can to stay one step ahead of the police or whatever Big Bad the show is featuring that season. There's only so much reflection I can take, which is why the start of season six feels a bit slow.
But Travis and Gellar's mission, whatever the heck that is, will soon collide with Dexter's world and we'll be off and sprinting. How do I know? I guess it's a matter of faith.
Matt Richenthal is the Editor in Chief of TV Fanatic. Follow him on Twitter and on Google+.