The series premiere of The Secret Circle is in the books. What did everyone think?
TV Fanatic is officially on board, so much so that we'll be publishing Round Table discussions in honor of the new CW drama. Below, editor-in-chief Matt Richenthal is joined by colleagues Steve Marsi and Eric Hochberger for a breakdown...
~~~~~~~~~~~~~~~~~~~~~~~~~~~
What was your favorite scene from the premiere?
Matt: The discussion between Cassie's grandmother and Dawn. It revealed so much about the older generation and opened the door to a number of possibilities regarding their history together. Plus, I'm a sucker for Natasha Henstridge.
Steve: Call me cheesy, but Cassie and Adam in the forest, as he helped her tap into her powers. A show like this needs to establish a pairing for the audience to root for and this scene accomplished that goal.
Eric: Everything with Gale Harold as Charles. What a creepy, perfect villain.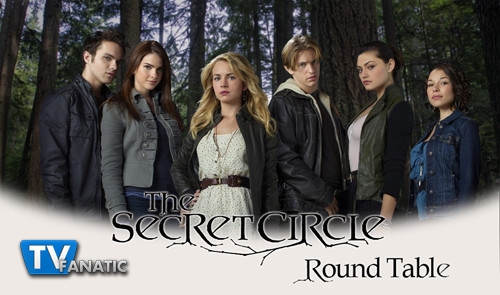 Who is your favorite character so far?
Matt: Faye. Phoebe Tonkin just looks like she's having a blast in that role and there's so much potential to be mined considering the role of her mother.

Steve: Cassie. It's the simple answer, I know. But she's strong-willed and hesitant, but not timid. She has viewers on her side instantly due to the death of her mother and, come on, Britt Robertson? Always fantastic.

Eric: Sorry to be repetitive, but... Gale Harold as Charles. As an insightful critic once said, what a creepy, perfect villain.

Who is coming for Cassie?
Matt: How could I possibly know that?!? If the answer was obvious, it would be a pretty lame story.

Steve: More witches from the older coven, clearly. What do they want? What is their backstory? How does it involve? Cassie. Heck if I know, it's been one episode! But I'll be tuning in to find out more.

Eric: Klaus. Seriously, girl, RUN!

Give the premiere a grade.
Matt: A-. Just so it has room to improve. I actually thought it was the ideal opener, in terms of establishing a protagonist, setting up a rich setting, throwing in a few mysterious and even sparking a romantic flame. If you like The Vampire Diaries, how can you not have enjoyed this pilot?

Steve: A. Matt pretty much said it all. I'm a little afraid of the witches gaining too much power and spells being cast left and right, but why speculate? So far, so very good.

Eric: B. I'm not as generous as my colleagues and I can't help but compare it to its lead-in. There's no breakout, Damon-like character. Not yet, at least.

Tags: The Secret Circle, Round Tables