You can only trust yourself. That was the message Emily relayed to viewers this week on another intriguing episode of Revenge.
How did her plot to destroy another enemy compare to last week's? How much chemistry is there between her and Jack? Do you like Nolan Ross? Our Revenge Round Table team of Christine Orlando, Leigh Raines and Dan Forcella tackle these issues below...
~~~~~~~~~~~~~~~~~~~~~~~~~~~
Emily's revenge on Bill: More or less impressive than last week?
Christine: More impressive. I loved her takedown of "Uncle Bill" partly because he was so arrogant and also because he was a personal friend of her dad's who then turned on him. And for some reason that giant Superman picture over his desk really bugged me.
Leigh: More impressive for sure. In fact, I'd say about $2 billion more impressive. Lydia was just about exposing a cheater, child's play compared to the takedown of an entire company.
Dan: I'm with you both on how awesome this was, but I might give the edge to the Lydia revenge if only because it was Emily's first action. Now she's in a groove and it probably came a bit easier to her.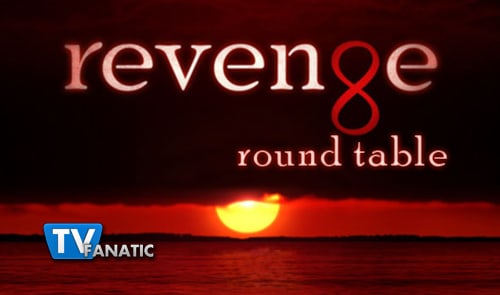 Better Porter: Declan or Jack?
Christine: I don't feel a connection to Jack yet. He seems like a good guy but his character simply hasn't clicked for me. I do want to know how he ended up with Amanda's dog, though. However, Declan's poor boy/rich girl storyline is growing on me. I'm waiting to see how he eventually wins over Charlotte.
Leigh: Tough call. As I mentioned before, I like Connor Paolo in Declan's role, but I think I'm going with Jack on this one. Jack's story hasn't unfolded yet and that intrigues me. He's the strong, silent, sexy type. Plus he's got that dog. Who can resist the man with the dog?
Dan: Isn't it a given that guys on television named Jack are awesome? (Bauer, Shephard, Donaghy) I don't see that trend changing on Revenge, as Jack Porter has definitely given me reason to want to find out more about him.
Nolan Ross: Fun, quirky helper? Or irritating annoyance?
Christine: Quirky helper.  I like Nolan. He's the outsider who wants to fit in but I don't think he'll bend too much to do so. I don't think Emily trusts anyone but I'm hoping to see her work with Nolan more in the future.
Leigh: Even though Nolan gives me the heebee jeebies, I would say quirky helper. Emily needs an ally, even if she doesn't think so. Nolan was instrumental in the takedown of Bill. He also saved the house for Emily. She can't be everywhere at once.
Dan: Yeah, it might be difficult for her, but she needs to let someone in. Whether that is Nolan or somebody else, she can't do this alone, as this week's episode proved.  The show would basically be over if Nolan hadn't stepped in to buy the beach house.
Knowing Daniel's fate and that Declan gets the girl 12 weeks from now, does it make their journeys less interesting?
Christine: No, I find them more interesting. I'm very curious about the journey. Does Emily start to care about Daniel? Or is this just one big ploy on her part? And does she have anything to do with him being shot? Will Daniel live or die? I'm hooked.
Leigh: Definitely more interesting. Now I want to know what happens, in the middle, that much more. At some point, the switch was flipped and that's usually the most exciting moment to see!
Dan: I agree... to a point. At the same time, though, I wonder what this show would have been like if it started with "Five months ago" and Daniel's shooting came as a huge surprise. It might have been more exciting.
How much chemistry was there between Emily and Jack on the porch, on a scale of 1 to Fire?
Christine: I might be in the minority but I'm not feeling it. I feel more chemistry between her and Daniel. Emily keeps her real emotions buried. She obviously feels a connection with Jack but I don't think she's willing to be distracted from her goal. I'd rate their current chemistry as a 4 and we'll see where it leads.
Leigh: I'm still sweating from that scene. Daniel Grayson is hot, but these two together are en FUEGO. I feel like Jack had a sense it was Amanda in a soul mate kind of way. It takes a lot of chemistry to make a short scene, with that few lines, so emotional.
Dan: I'm with Leigh on this one. I really wanted to jump through my TV and scream at them to make out already.